Click here to browse our Real Estate Agent Directory and contact top-rated agents in your area!
While commission rates and realtor fees can differ between states and agents, it is commonly thought that sellers will typically pay between 5% and 6% in agent commissions when selling a home. This was the standard set many years ago that most people accept.
Real estate agent fees are a part of the total cost when selling a home, so it's important to know what to expect and include in your budget. Though 1% can seem like a small amount, when you're listing an expensive home, it can end up being a lot of money.
To get a better understanding of what sellers are paying in real estate commissions and realtor fees across the United States, we surveyed 580 FastExpert agents.
Of course, agent commissions are negotiable, so keep that in mind. We found that the actual commission rate that is paid is based on several different factors, including the type of property being sold, the location of the property, the price of the property, and more.
In this guide, we will look at the average realtor commission in each state based on our survey results for the survey performed in Q2 2022.
Key Takeaways
Our survey showed that agents on FastExpert:
Sell homes for an average of 5.67% above the asking price
48.5% of agents charge less than 3% individual commission
Have an average career span of 17.44 years
Complete an average of 49.28 transactions annually
Are very flexible when negotiating commission rates and realtor fees
What is the Average National Real Estate Commission?
As mentioned, the national average is between 5% and 6% of the property's sale price for a buyer's agent and listing agent. In some cities, home sellers can expect to pay as little as 4% in realtor fees, while the going rate in other cities is as high as 7% for residential & 10% for commercial properties.
According to our survey, we found the average real estate agent commission rate in the US to be 5.57%.
As we mentioned above, there is a lot that can go into the amount that an agent charges. It's essential to keep in mind all of the work that goes into the agent commission. A real estate commission isn't just about the final sale of the house but also about the marketing and actual time the average realtor spends to get that house sold.
Average Realtor Commission Rates for Agents on FastExpert
According to our survey, only 6% of agents charge less than 5% commission, split between the buyer's and seller's agents. As expected, about 89.8% of the agents who responded had a rate within what is considered the national average.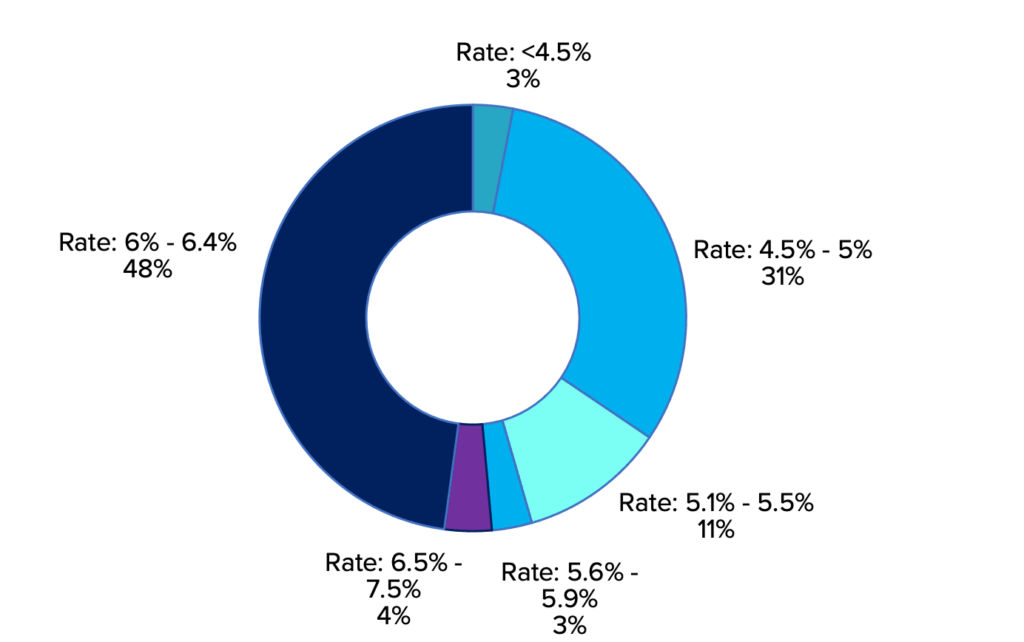 Average Realtor Commission Rates by State
Methodology & Stats
The figures presented here were compiled from a random sampling of 580 real estate agents registered with FastExpert.com. The agent's responses were gathered through an online survey from August 19th to September 19th, 2022. Out of the 580 agents surveyed:
87.24% are Realtors
38.8% act as dual agents, helping both the buyer and seller
On average, earn around $259,916 per year, with most earning between $101k and $250k
Are Real Estate Commissions Negotiable?
Yes, real estate commissions and realtor fees are negotiable. In most cases, the seller of the property will be the one who pays the commission, so they will have the ability to negotiate with the agent.
The time to negotiate is during the interview or hiring process. It is important to ask the agents what they ask for in commission and their average realtor fees. At this time, you can ask if they would be willing to take less or a flat fee. Remember, they get a percentage of the home's sale price, so if they help you sell your home for more, they also make more.
This is important because you want your listing agent to do all they can to get your home sold for the highest price. This might mean you have to settle for paying full price to get the level of service you need.
Be advised that just because a buyer's agent or a listing agent is offering a lower commission, it doesn't mean they are a better agent. In some cases, agents who charge lower commissions may be less experienced or may not provide the same level of service as those who charge higher commissions.
It is also worth noting that some real estate agents may charge a flat fee instead of a commission. This is most often seen in low-priced properties or in cases where the agent is confident that they will sell the property quickly.
What Goes into Realtor Commission?
In a hot seller's market, having an experienced real estate agent or listing agent isn't usually as important as at other times. When buyers are hunting down homes and making offers before a listing goes live, almost any agent that knows how to put up a sign can close a deal.
During times when buyers aren't so eager and there is a lot of housing inventory, a realtor's job takes more effort to sell your home. This is when the average realtor commission seems fair.
How Realtors Handle a Buyer's Market
To sell a home in a buyer's market, realtors need to spend time attracting buyers and marketing a home in such a way that it looks more appealing than others. This is a time that sellers should be picky about who they choose to work with.
A good listing agent will research the market, get to know the client and the neighborhood, and spend time marketing and talking to prospective buyers. In a buyer's housing market, a house will not just sell itself, so a listing agent will likely be forced to do more work than a buyer's agent.
As for a buyer's agent during a buyer's market, their main job is finding properties that best fit their client's needs and negotiating to a reasonable price. Realtor fees are contingent on the work the agent puts in but also on the type of market they happen to be working in at the time.
How Realtors Handle a Seller's Market
During a seller's market, a buyer's agent will likely be working a lot harder as they will likely be handling multiple offers from their clients that ultimately get rejected. This can mean a much longer relationship as the agent will show many more properties and write up many more offers.
For a seller's agent, most of the work will be organizing offers and helping their client decide on the best. They will also likely be communicating with other agents, but depending on their style, this can be minimal.
Whatever side of the market you are on, if you pick the wrong agent to work with, it can mean less money in your pocket.
Don't Be Fooled By Discount Real Estate Agents
The adage "you get what you pay for" is often true regarding real estate agents. Just because an agent is willing to negotiate their commission doesn't mean they are the best choice for your needs.
There are plenty of real estate professionals willing to discount their services. Many even offer flat-rate a la carte services.
But, that lower commission could mean they are cutting essential services, or they may not be as experienced. For example, a buyer's agent might be just starting, or a seller's agent might not put much money and effort into marketing.
What Discount Realtors Cut
When asked if accepting a lower-than-average commission meant cutting services, 81.7% said they will not cut services, but 18.3% said there was a tradeoff for slashing their realtor commission. The most common services agents cut due to lower commissions are some of the most important. They include:
Professional photography
Staging
Paid advertising
Virtual tour
Everything except paperwork
Instead of choosing the agent with the lowest commission, it is best to choose an agent based on their experience, marketing plan, and reputation. You also want an agent who you feel confident will sell your property quickly and for the best price possible. In most cases, it is worth paying a higher commission to get the results you are looking for.
An experienced agent will likely sell your home faster and for a higher price than a discount real estate agent. They will also be able to provide guidance and advice throughout the process.
The bottom line is that you should not let the commission rate be the only factor you consider when choosing a real estate agent. Instead, you should focus on finding an agent who you feel confident will sell your property quickly and for the best price possible.
Why Choose a FastExpert Agent
If you're looking to buy or sell a home, you've probably heard of FastExpert. But what is it, and how does it work? In short, FastExpert is a website that connects home buyers and sellers with real estate agents in their area.
Here's how it works:
First, you enter your city or zip code.
Then, FastExpert matches you with real estate agents in your area.
You can browse the agent's listing, learn more about their expertise, recent sales, and experience, and even read reviews from past clients.
Once you've found an agent you're interested in working with, you can contact them directly through the FastExpert website.
There's no fee to use FastExpert, so it's a great way to start looking for real estate agents and comparing what they charge for commission. There are two ways to use FastExpert, either browse agent profiles on your own and message agents or let our team of experts send you a list based on your needs.
We are passionate about home buyers and sellers finding the right agent and having the best experience possible. We think that having a partner that understands your needs and works hard for you is one of the most important things.
There is no obligation to use a FastExpert agent, and they are ready to answer your questions anytime.
If you're ready to find a real estate agent in your area, try FastExpert today!
FAQ
How Do Realtor Commissions Work?
In most cases, real estate commissions are paid out by the seller of the property. It is typically a percentage of the final sale price and is divided between the buyer's agent and the seller's agent.
For example, let's say that a home is sold for $200,000 and the commission rate is 5%. The total commission would be $10,000, which would be split evenly between the buyer's agent and the listing agent. Or, if the agent is a dual agent – acting on behalf of both the buyer and seller – they would keep the entire sum.
What Else You Should Know About Real Estate Commissions
Here are a few other things you should keep in mind when it comes to real estate commissions:
Commissions are typically paid out at closing, so you won't have to worry about paying the commission upfront.
Even if you are selling your home yourself, you may still need to pay the buyer's agent their commission unless you work it into the contract that the buyer is responsible.
Sometimes, the buyer and seller may agree to split the commission. For example, if the commission is 5% and the parties agree to split it 50/50, the buyer would pay 2.5% and the seller would pay 2.5%.
Some real estate agents may charge a higher commission if the property is sold for a higher price. For example, they may charge a 6% commission if the property is sold for more than $500,000. Or, if they have significant experience in niche real estate transactions.
In some cases, you may be able to negotiate a lower commission if you agree to use the same agent for both the purchase and the sale.
You may also be able to negotiate a lower commission if you are buying and selling multiple properties at the same time.