Click here to browse the FastExpert Real Estate Agent Directory and contact top-rated agents in your area!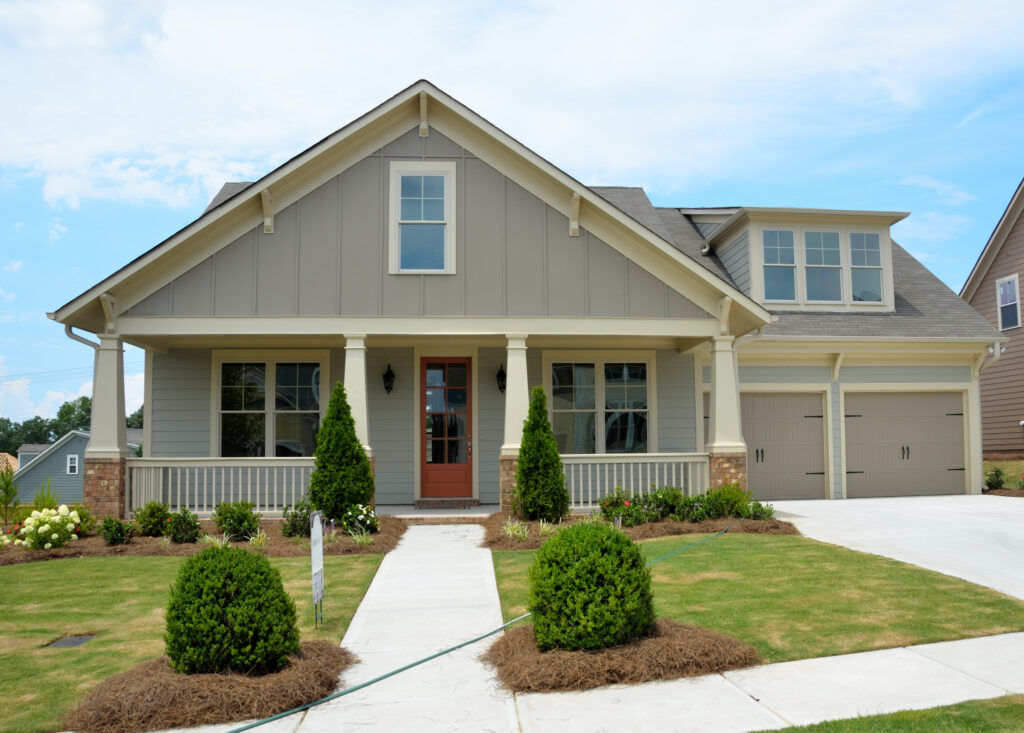 The average real estate commission in Georgia is 5.84%, based on a poll of FastExpert agents. Georgia real estate agents, earn slightly above the national average commission rate of 5.57%.
Real estate agent commission rates can vary based on experience and location, so it's a good idea to discuss realtor commission rates, otherwise known as realtor fees, with your agent prior to hiring them for your real estate transaction. It's also important to understand how the commissions are calculated since this is a significant portion of every real estate transaction.
Read on to discover all that you need to know about the real estate commission in Georgia.
Calculating the Commission on a Georgia Home
One agent does not get the entire commission.
The total realtor commission is generally split between the four parties involved in the transaction. These include the listing agent's brokerage, listing agent, buying agent's brokerage, and buying agent.
The graphic below shows generally the path that the money takes from closing day to the realtors receiving payment for the sale.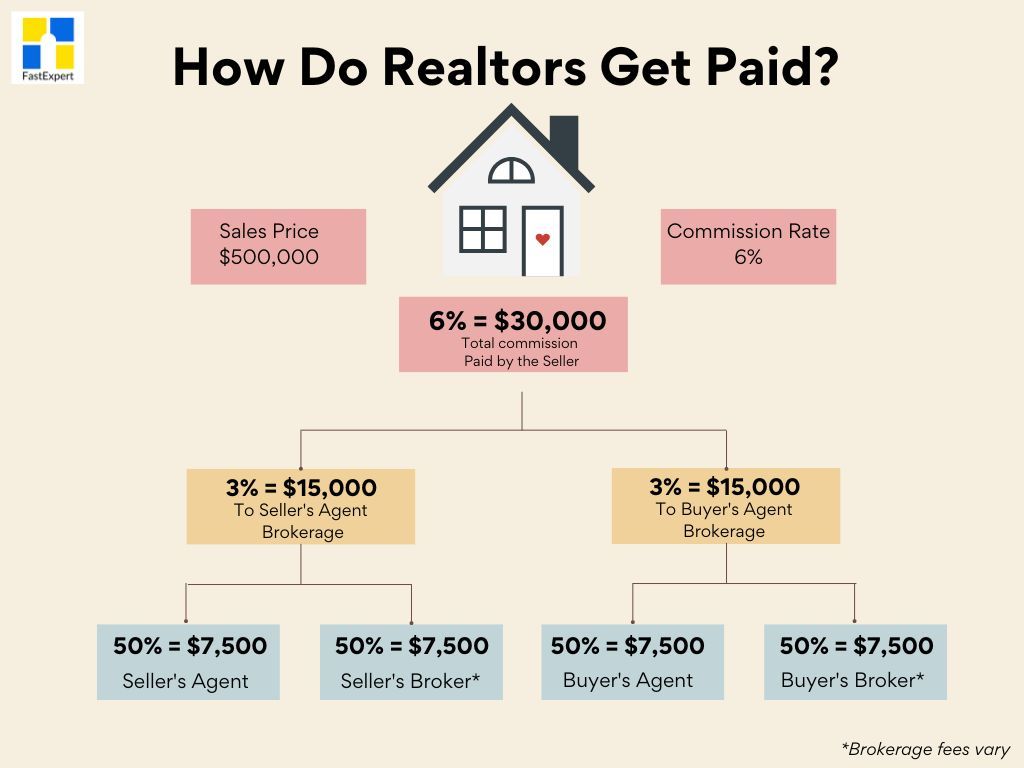 Determining the Real Estate Commission on an Average Georgia Home
The median sales price of a home in Georgia is $347,400, according to Redfin data. Therefore, with a realtor commission rate of 5.84%, the total commission paid would be $20,288.
Following the typical path, the total commission would be split between the real estate agents involved and the two agent's brokerages. Therefore, each brokerage would receive $10,144. This amount would then be split again. The buyer's agent's commission would be $5,072, and the listing agent would receive the same.
Average Income of a Georgia Real Estate Agent
Real estate agents in Georgia make an average of $93,504, which is the same as the national average. Agents with 1-2 years of experience earn an average of $84,299, and agents with more than 10 years of experience earn an average of $110,605 annually, according to Indeed.
The real estate agent's realtor fees or commission rate, price of the house, location, and experience are all factors that determine the salary of a realtor. As we've all seen on TV shows, agents with more experience who sell multimillion-dollar homes, earn a significant income. However, the average agent generally earns a more modest income. Agents work all hours to earn their realtor fees and often do work behind the scenes to find the perfect home for you or to market the house you're selling.
Georgia Real Estate Agent Salary by City
These are the highest paying cities for real estate agents in Georgia.
Athens – $107,548
Marietta – $104,890
Atlanta – $101,306
Warner Robins – $99,738
Suwanee – $97,951
Alpharetta – $96,293
Roswell – $96,074
Hoschton – $93,757
Savannah – $93,095
What Factors Affect the Amount of Real Estate Commission You Pay?
There are several factors that can affect the amount of real estate commission or realtor fees that you pay.
First, is the type of property you're selling. For example, relatively expensive homes tend to have higher total commissions than more affordable homes.
Second, is the location of the property. Homes in larger cities or desirable areas will often have higher realtor fees than homes in less populated areas.
Third, are the market conditions. In a hot housing market, where there are more buyers than sellers, agents may be able to charge higher realtor fees.
Fourth, is the brokerage. Most brokerages take a percentage of the real estate agent's commission. The amount can vary from low amounts, like 10%, up to 70%.
Should You Work with a Discount Agent?
While it is enticing to work with a discount agent or flat fee agent, it can have its drawbacks, and ultimately, you may pay for it in the home price.
The National Association of Realtors (NAR) discourages agents from accepting a commission rate of less than 5%. The association wants to uphold the value of realtors and believes that the amount of work that they do justifies the realtor fees. In addition, they want to preserve the quality of service that clients receive. Lastly, NAR has found that homes sold by certified Realtors sold at a higher rate than those that aren't.
Real Estate Agents Can Help You Succeed
The real estate market can be challenging if navigating it on your own. However, with experienced agents, you'll be guided with ease and can feel confident in your decision to buy or sell real estate in Georgia. Local agents understand the nuances of their market so that you can have success whether you're selling or buying a home in Georgia.
If you're considering selling your home, a listing agent will look at the market and comparable homes in the area. In addition, the listing agent can quickly analyze the condition of your home to determine the best list price. A good listing agent will also provide recommendations for how to stage your home or any small improvements that should be done before clients see the home.
A buyer's agent will connect with the client to truly understand what they want in a home. They can also help to develop top priorities, locations, and negotiable items. In addition, a top buyer's agent can recommend financing for preapproval, a lawyer, and an inspector. Finding an excellent buyer's agent, is a treasure, as the buyer is able to lean on their expertise to guide them and provide trustworthy recommendations.
Regardless of whether you're buying or selling a home in Georgia, finding a real estate agent that will advocate for you is critical. Not only will they negotiate on your behalf, but they will also seamlessly guide you through the process.
>>MORE: Finding local agents is easy with FastExpert
The Duties of a Real Estate Agent in Georgia
The duties of a real estate agent in Georgia include helping buyers find properties that meet their needs and budget, and helping home sellers market and sell their homes.
Real estate agents also help with the negotiation process, and they are typically involved in the home inspection and closing processes.
By law, they are bound by the code of ethics set forth by the Georgia Real Estate Commission & AppraisersAppraiserA professional who conducts an analysis of the property, including examples of sales of similar properties in order to develop an estimate of the value of the property. The analysis is called an "appraisal." Board. The ethical rules include, but are not limited to:
Present all offers in a timely manner
Disclose material facts about the property
Avoid conflicts of interest
Exercise reasonable skill and care
Abide by confidentiality agreements
How to Find the Right Real Estate Agent for You
FastExpert can help you find the perfect agent. If you prefer to do your own search, simply enter your zip code, and we'll provide you with a list of top-rated agents in your area. Or, if you'd rather that we do the searching for you, fill out a quick survey, and we'll provide several agents that align with your needs.
All of our agents are experts in their field. Read reviews, easily message them your questions, and be on your way to your dream home. Finding your perfect agent has never been easier!