Real Agents,
Real Testimonials
Let clients connect with you directly with our directory!
Clients can find your profile and message you directly.
FastExpert has a one-of-a-kind real estate agent directory that potential clients can browse and search.
By joining FastExpert and completing your profile, you'll show up in our directory where users can connect directly. This means more qualified leads from people that want YOU.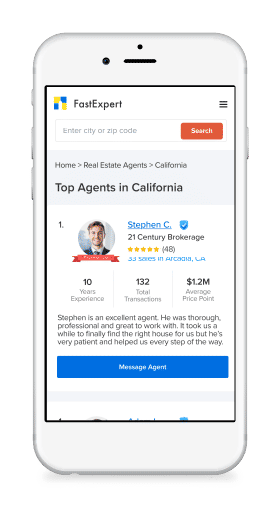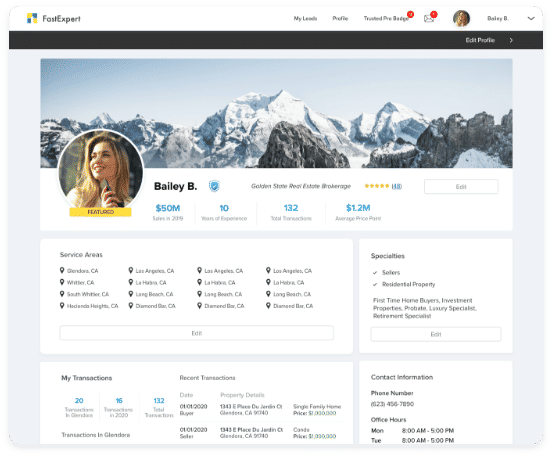 Showcase your profile
FastExpert offers a public searchable database for all of our real estate agents. You can build your profile by adding information that will attract clients.
Increase your visibility and online presence
Highlight your achievements and credentials
Chat directly with new clients through our messaging system
Attract new clients
Start Building Your Profile
Grow your Real Estate Business with FastExpert!
We help thousands of Real Estate Agents connect with new clients every month through our partnership program.
Get Listed in our Directory
Increase your exposure and visibility by showcasing your profile in our Directory.
Only Pay a 25% Referral Fee
FastExpert will match you with qualified leads. You only pay a 25% referral fee upon closing.
Amazing Support
Our amazing account managers are available to help you succeed. Call us anytime (800) 319-0511.
Get The Leads You Want
You can choose to represent buyers, sellers, or both. Filter leads for only cities you specialize in by zip code.
Receive Leads Instantly
New leads are delivered straight to your e-mail and through text messages so you can connect with clients immediately.
Manage Your Leads with Ease
Easily manage your leads through our proprietary Lead Management Software. It's easy to use.
5,000+ Client Reviews and Counting ...
With Thousands of 5 Star Reviews, You Can't Go Wrong With a FastExpert Agent. Read More
Questions?
Let us know how we can help.