Click here to browse our Real Estate Agent Directory and contact top-rated agents in your area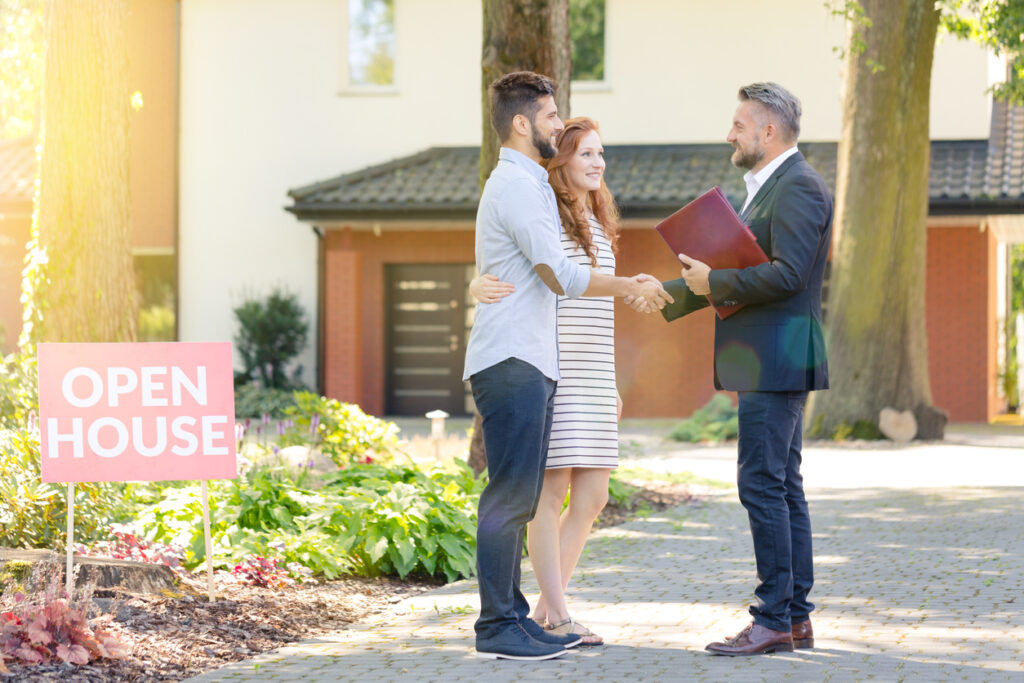 An open house is a great way to show off your home. Potential buyers can view your property without having to schedule a private showing. Buyers agents can also look at your home during an open house to see if they should recommend it to their clients. While real estate trends change, the open house continues to be a popular marketing tool. Nearly half of all buyers (48%) attend open houses are part of the home search process.
However, there are good and bad ways to host an open house. If you aren't prepared for this event, you might drive away prospective homebuyers and other agents more than you expect. A poor open house showing could keep your home on the market for longer periods of time.
Here are a few tips for an open house if you want to make a good impression on everyone who walks through the door. Who knows, you might end up with multiple offers or buyers engaging in a bidding war for your home.
1. Declutter Your Home
Decluttering and staging should be done before you even list the property. Sort through your belongings and donate or throw away anything you don't want or need. Then look in each room and try to remove family mementos, photos, and personal items that could be distracting. If you don't want to take these down permanently, tuck them away during the open house.
Decorations and memories can distract buyers. They might be so interested in your art that they forget to ask about the recent roof replacement or notice the plumbing upgrades in the bathroom. Also remove any signs of your political affiliation, which might put off buyers from the house if they disagree with your views.
2. Clean Everything
Either hire a deep cleaning service the day before your open house or spend the hours before potential buyers arrive mopping, wiping, and vacuuming your space. This is one of the most important open house tips you will read. Buyers will notice dirt and grime and will be put off by your home. They don't want to move into a dirty house and they might start to think your property is run down and not worth the price.
Cleaning will also eliminate odors from the home that could also drive away buyers. No one wants to buy a kitchen that smells like trash, leftovers, and rotting vegetables. Also, don't forget to pressure wash your driveway and invest in curb appeal improvements. This creates positive first impressions.
3. Avoid Candles and Room Sprays
Lighting candles used to be one of the basics of how to have an open house. Realtors used to light candles to ensure buyers associated the property with good smells and therefore positive memories. However, the human nose is easily overpowered. Your buyers and agents could leave your property faster if your candles and room sprays leave them with headaches or sinus reactions.
"People today are simply more sensitive to air fresheners than they used to be," says Kiernan Middleman, a real estate agent with Berkshire Hathaway in Boston. "What real estate clients want today is fresh air."
It is better to use your time to actually clean your space and have a neutral smell than to light an overpowering candle.
4. Drop Your Pets Off at Daycare
There is no reason to keep your pets at home for an open house. At best, your furry friends are so adorable that buyers get distracted by them. At worst, they scare potential buyers or trigger allergic reactions. Pets can also cause stress for you and your real estate agent who need to make sure they don't escape because of the constant opening and closing of doors. The high number of strangers can also stress out your animals.
Unless you need your pet as a service animal, let them spend the day at doggy daycare or with a nearby friend. If you have a pet, pay extra attention to cleaning up after them before the open house. This way dander won't trigger allergies and litter box odors won't gross out buyers.
5. Remove Yourself From the House
As the homeowner, you should also not be present at the open house. Your presence could make buyers feel uncomfortable because you provide a personal connection to the home. Plus, if potential buyers want to rip out your kitchen or hate your carpet choices, they won't feel comfortable saying that if you hovering nearby.
Consider taking your pets or kids to a nearby park or staying with friends for the day.
6. Make People Want to Stay in Your Home
Most tips for an open house focus on bringing people to your home and encouraging them to stay there. The longer a prospective buyer spends in your home, the more features they will notice. They will also use this time to picture themselves living there.
The National Association of Realtors created a playlist for making people feel comfortable when visiting an open house. Your real estate agent might put out snacks and wine to keep buyers on site. You can even put a movie on the TV for kids to watch while their parents look at your property. This makes people feel welcome.
7. Ask Your Agent How They Will Market Your Home
Sellers don't really need to know the technical details of how to have a successful open house. However, they need to believe that their Realtors are doing a good job marketing the property. What's the point of cleaning, decluttering, and preparing just to attract two or three potential buyers?
When you interview real estate agents to sell your home, ask about their open house marketing strategies. How will they let people know that your home is available and attract potential buyers?
8. Make Sure Your Agent Has Updated Fact Sheets
When real estate professionals agree to take on a property, they usually ask basic questions about the structure and design. They need to know when it was built, when the roof was last replaced, your monthly utilities cost, and other relevant information. These are all factors that serious buyers will ask about.
Consider developing a basic fact sheet that highlights the home's features if your real estate agent doesn't have one already. Focus on the best parts of your home (like the new water heater or square footage) so buyers know the property is in good condition.
9. Keep Your Realtor On-Site at All Times
An effective real estate professional knows they shouldn't leave the property during an open house. While most people are trustworthy, you don't want buyers searching through your drawers and cabinets. Your real estate agent will keep your property safe by watching over open house attendees.
There is also a marketing aspect to remaining on site. The agent can engage visitors so they stay longer while promoting different features of the house. An agent with a successful real estate business can help buyers love the hidden gem that is your home.
10. Clarify What Your Realtor Can Communicate
Serious buyers and their agents will ask questions throughout the open house. Not only do they want to know about the house, but they also want to know why you are selling. Talk to your real estate professional about how to answer sensitive or difficult questions.
For example, if a potential buyer hears that you are selling because of a divorce, they might think you are desperate to move – resulting in a lowball offer. If you are moving to a better school district, your buyers might think the schools in the area aren't worth attending.
Expert real estate professionals should be ready for nosy questions and should know what not to discuss with attendees.
11. Alert Your Neighbors
You don't have to tell your neighbors that you are having an open house, but giving them notice can prevent problems related to parking. You don't want angry neighbors scaring interested buyers away from the home. Curious neighbors might drum up interest by wandering through themselves.
If parking is an issue in your area, tell your Realtor. They might ask their assistant to keep an eye on the street to make sure none of the neighbors are accidentally blocked in.
12. Ask for Feedback from Buyers and Real Estate Agents
Consider placing feedback forms or a tablet near the door with a quick survey about the house. This way buyers can share their thoughts on the open house experience. Ask what they like about the house, what they don't like, and what they would change about it. If every visitor says the same thing, you know what is keeping buyers from making offers.
There are some factors that are out of your control (like the location) but you might be able to use this feedback to make your home more attractive to the people who see it.
13. Evaluate the Results With Your Real Estate Agent
Most tips for an open house focus on the preparation aspects of this event. However, it is just as important to track the success of your open house and see if you need to make any changes to your selling strategy.
Ask your Realtor to report the number of people who attended the open house, including the number of agents versus potential buyers. Then see if any bids or requests for private showings came from the open house.
If you are trying to sell your home but can't find interested buyers, you need to change what you are doing to win people over.
Apply These Tips for an Open House With an Experienced Agent
As a home seller, you can prepare your house to the best of your ability, but it's up to your Realtor to bring buyers in. Most of these open house tips focus on what you can do, but every home sale process starts with the agent you hire. Make sure your Realtor has experience hosting open houses and has seen success with this form of marketing. This way you can trust them.
Turn to FastExpert to find a qualified Realtor in your area. Our company is the #1 trusted platform to search, compare and hire top real estate agents. All you have to do is tell us your zip code and we can recommend experienced Realtors who have positive reviews near you. Our service is free and we stand by our results. Try FastExpert today and take the first steps to selling your house.