Click here to browse our Real Estate Agent Directory and contact top-rated agents in your area!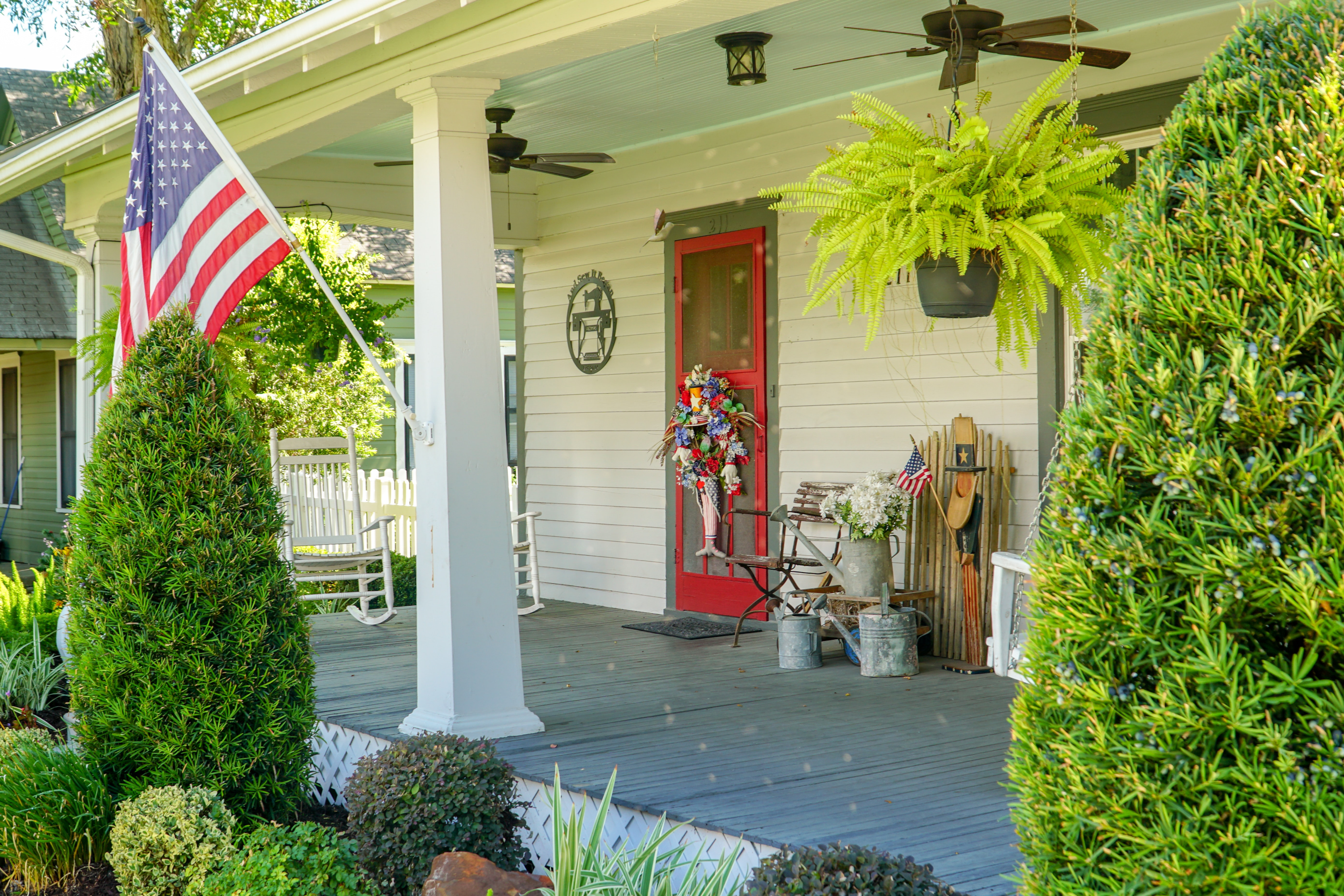 Texas has been the focus of many investors for nearly a decade. The golden child, Austin, started seeing strong value appreciation in 2012, and since then, most of Texas' major cities have experienced booming price growth. It's safe to say that the Austin, Texas housing market has been red hot, with much of the state following its lead.
The state of Texas has been transformed by population growth and corporate investment. Some of the world's largest companies, including Google, Oracle, and Tesla, are relocating operations to the Lone Star State.
The state's business-friendly tax and legal systems make it an attractive market for both large corporations and small startups. This level of corporate investment brings high-paying jobs, and those employees need housing. As a result, demand for real estate in Austin, San Antonio, Dallas-Fort Worth, and Houston has skyrocketed in recent years.
Texas Housing Market at a Glance
October 2022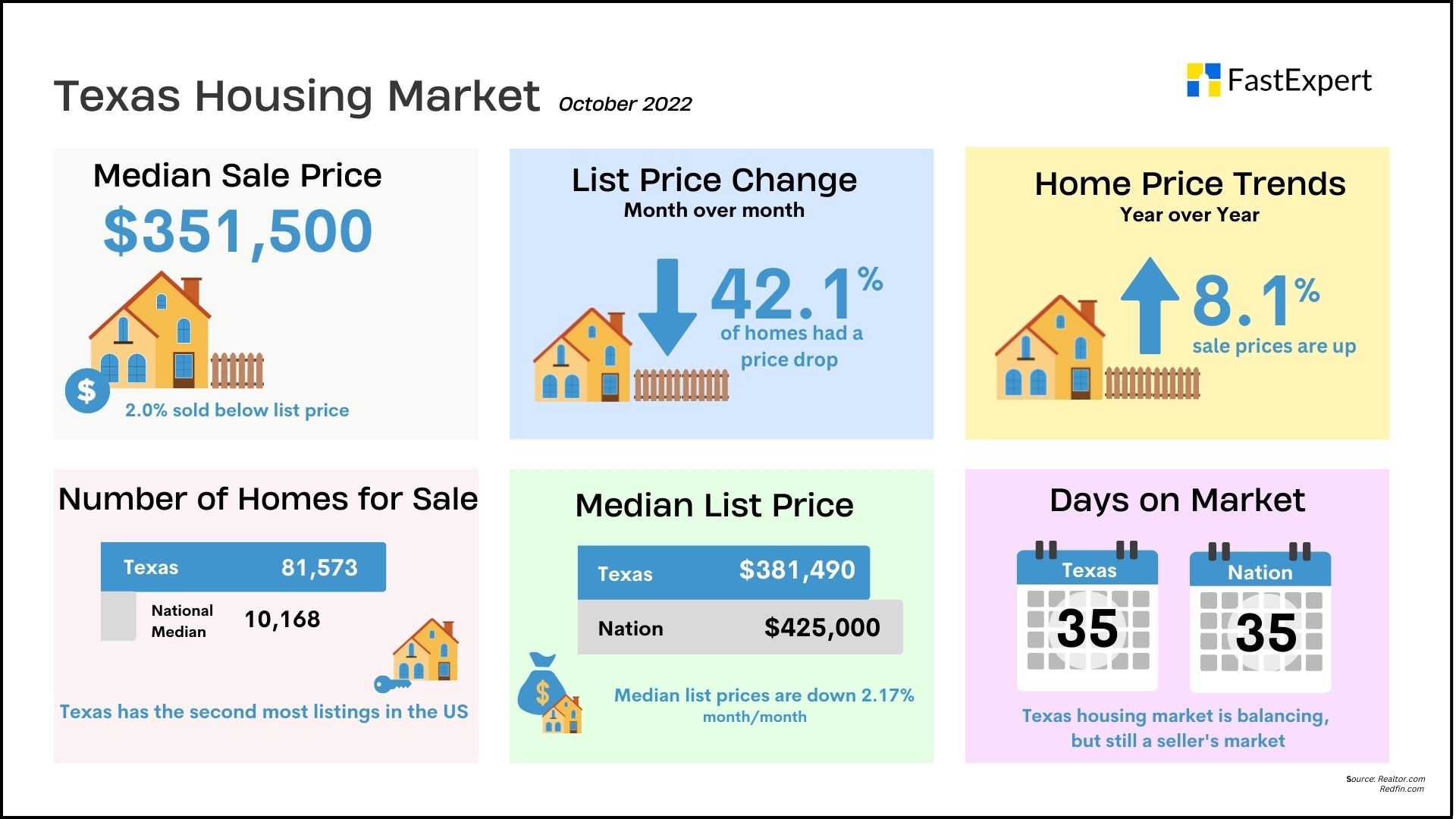 Everything's bigger in Texas, including buyer demand, housing prices, and the number of homes for sale. The housing market has been booming in Texas; however, it's beginning to cool with the increasing interest rates. Yet, Texas is fairing better than the rest of the nation and will likely possess a stronger housing market than other states.
Texas Demand
Buyer demand for homes appears to be slowing as homes are staying on the 11 days market longer compared to last year, for a median of 35 days. In addition, home sales fell 25.3% year over year.
Texas Home Prices
Median home prices have decreased 2.17% relative to last month. In addition, we're seeing falling prices with active listings. 42.1% of the homes for sale had a price decrease in October.
However, the median sale price is still elevated, up 8.1% compared to a year ago, reflecting the red-hot Texas housing market of the past couple of years.
The median sale price in October was $351,500, down from the peak median price of $382,600, in May of 2022.
We should not expect to see the median price drop significantly though. Over the past few years, Texas housing prices have steadily increased as more people are drawn to the state.
Texas Housing Inventory
The Texas housing supply has struggled to keep up with demand, but with home purchases slowing, inventory is growing. Texas now has the second most homes for sale with 81, 573 listings. This is still way above the national median of 10,168 homes for sale. Yet, Redfin predicts that even with slowing sales, this high number of listings still reflects a seller's market.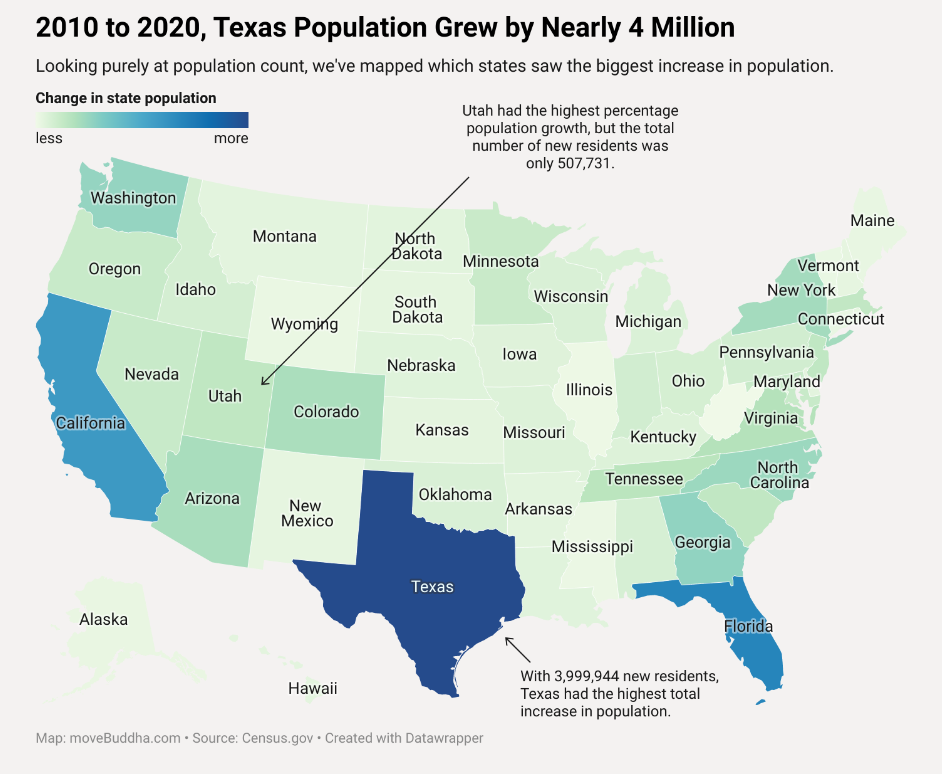 Population and Home Price Growth
The low Texas housing prices, comparatively mild temperatures, and low cost of living make it an attractive state for many across the US.
Between 2010 and 2020, Texas' population grew by just under 4 million people, making it the country's top state for population growth. The pandemic-inspired migration only quickened an already existing trend.
In 2021, Texas again topped the nation in population growth during a period when the US had the lowest population growth since its founding.
With a rapidly increasing population and shrinking household sizes, it's no wonder that the Texas housing supply has become an issue. Single-family and multifamily construction has been unable to keep up with growing demand, sending home prices and rents through the roof.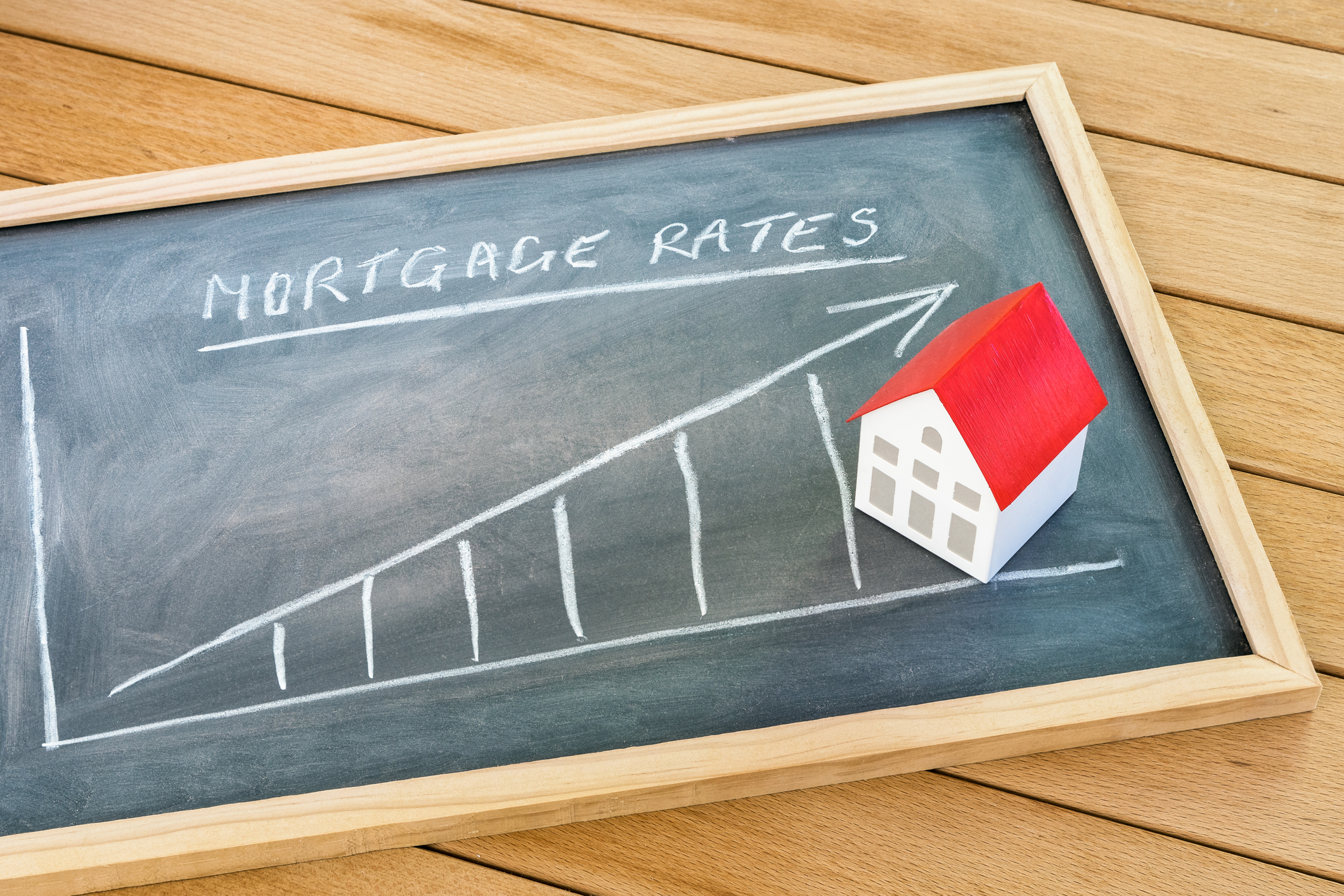 The Impact of Interest Rates on the Texas Housing Market
With inflation out of control, the Federal Reserve was forced to increase the federal funds interest rate, and consequently, mortgage rates are now sitting above 7%. Rapidly rising interest rates are making it harder for buyers to qualify for homes, and buyer confidence has taken a nosedive.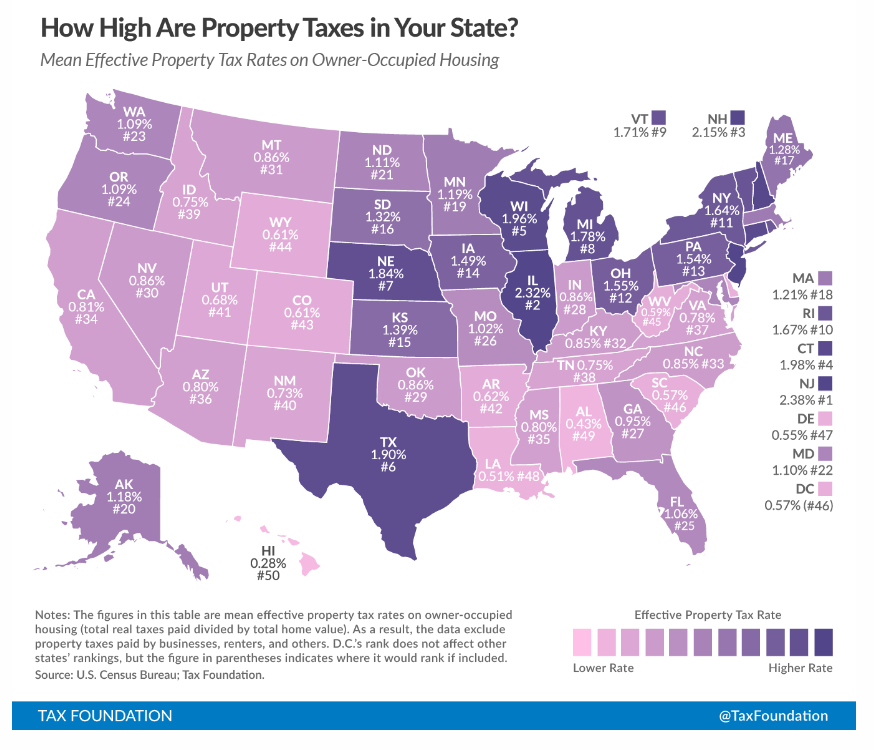 In addition, while homes across Texas may have lower price tags, the property tax rate is one of the highest in the country. The combination of high property taxes and high mortgage rates in markets that have already been deemed overvalued is causing buyers to second-guess investing in the state.
While Texas home prices haven't tanked, they are starting to cool.
The rampant bidding wars have ended, and buyers no longer have to pay over the asking price to secure a property. The demand for single-family homes remains since many first-time homebuyers were unable to capture a home in the hot housing market.
A more balanced market presents an opportunity for potential buyers who weren't able to compete in the insane market the area has seen over the last two years.
As of September 2022, there are more active listings in Texas than there have been since June 2020. In addition, the number of homes sold fell 16.7% since last year. The increase in inventory is great news for buyers willing to stomach high mortgage rates as they have more options and might even have the opportunity to snag a deal.
Texas Housing Market Predictions for the End of 2022
The Texas housing market has flattened over the last three months.
Some sellers are cutting their prices, however, experts don't expect much of a drop in the market, despite rising interest rates and a possible looming recession. It's safe to say that Texas' market has normalized, but it's far from being a buyers' market.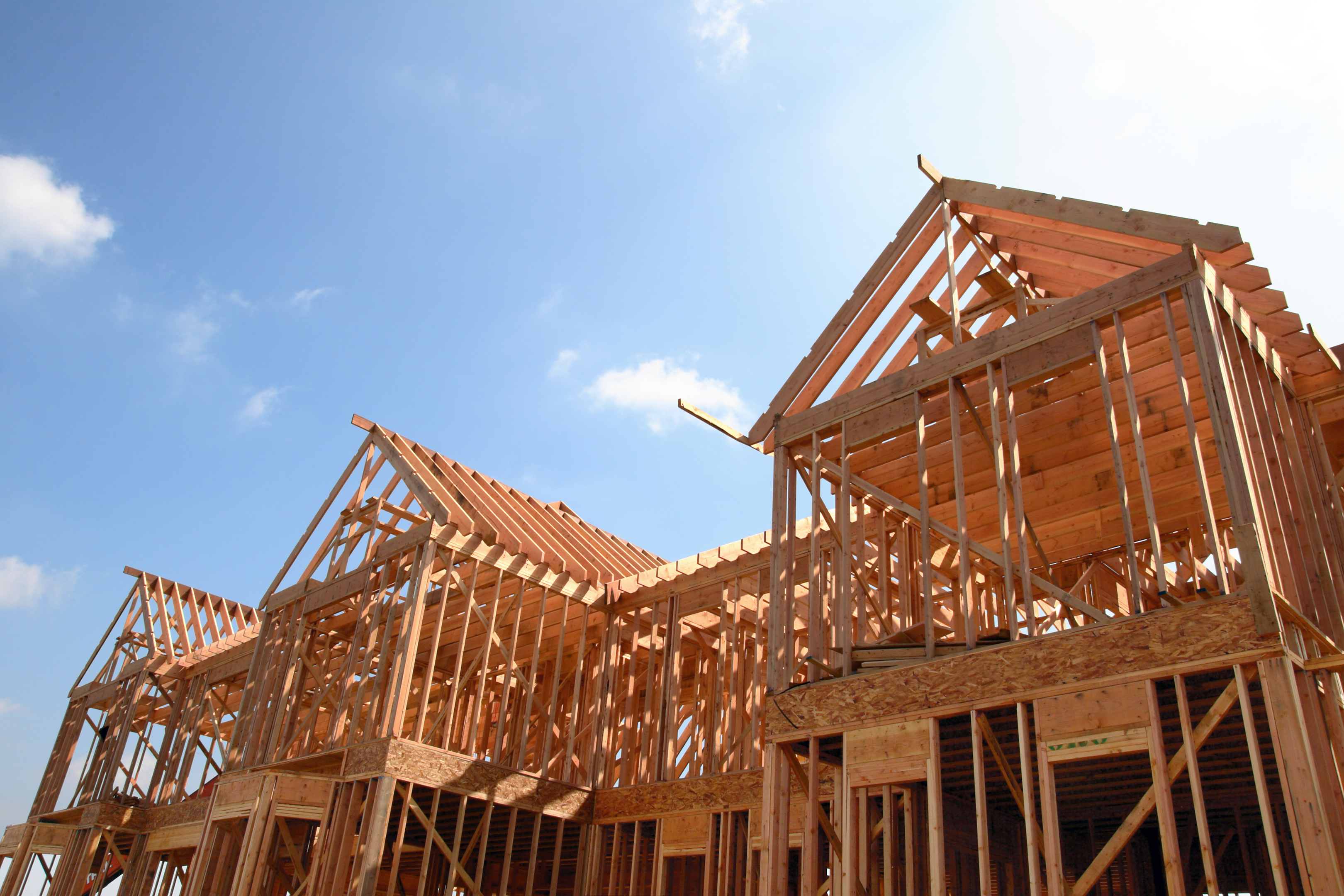 Housing supply will continue to be an issue in the state's major growth corridors, but new construction is on the books, and inventory is rising.
Sellers are still in an advantageous position, with plenty of buyers who missed out over recent years still itching for a place to call their own.
Texas' housing market during the end of 2022 and 2023 might see some localized decline, but the state is expected to see continued, albeit slower, price appreciation.
Use An Expert Real Estate Agent to Navigate the Texas Housing Market
If you're looking to buy or sell a Texas property, now is a perfect time.
Supply and demand are more balanced than they have been in years, but prices remain high. Use FindExpert to find an experienced local agent who can discuss your local market and help you achieve your real estate goals.