How to Get Started as a Real Estate Agent with FastExpert (2023)
⭐️. Sign up to join FastExpert today! ⭐️
Real estate agents join FastExpert for many reasons. Some agents are looking for ways to get more leads and find us in their research. Some are invited by colleagues and don't know much else about us. Others are looking to expand their reach and sign up, looking for clients they wouldn't otherwise have access to.
Whatever your reason is, we're glad you're here.
At FastExpert, our goal is to be the best partner we can be with our clients and our agents. That means providing the best agents for a client's needs and offering real, quality leads to our agents.
When a client and agent's needs align, we've done our job well.
How it Works
As a real estate agent working with FastExpert, you're hoping to find clients ready to start selling or buying a home. We work hard to provide this to you while ensuring that the client is connected with agents who will do the best job for them.
We only send leads to agents who have a proven track record of success.
For us, this is defined as an agent who:
has at least five years of experience working in real estate
has made a minimum of 10 sales in their area in the last 12 months
has an average of 4.5 stars reviews
is responsive to their clients and support team
We have these requirements to ensure our clients get the best. And the only way we know you are the best is if we know these things about you.
If you are starting with us or have been a passive partner, read on to find out how to maximize your relationship with FastExpert.
>> Get More Information About Joining FastExpert and Grow Your Real Estate Business!
How to Get Started
The first thing to do after deciding to join the FastExpert team of real estate agents is to sign up.
The sign up process involves creating an account with a unique password as well as providing an email address and phone number.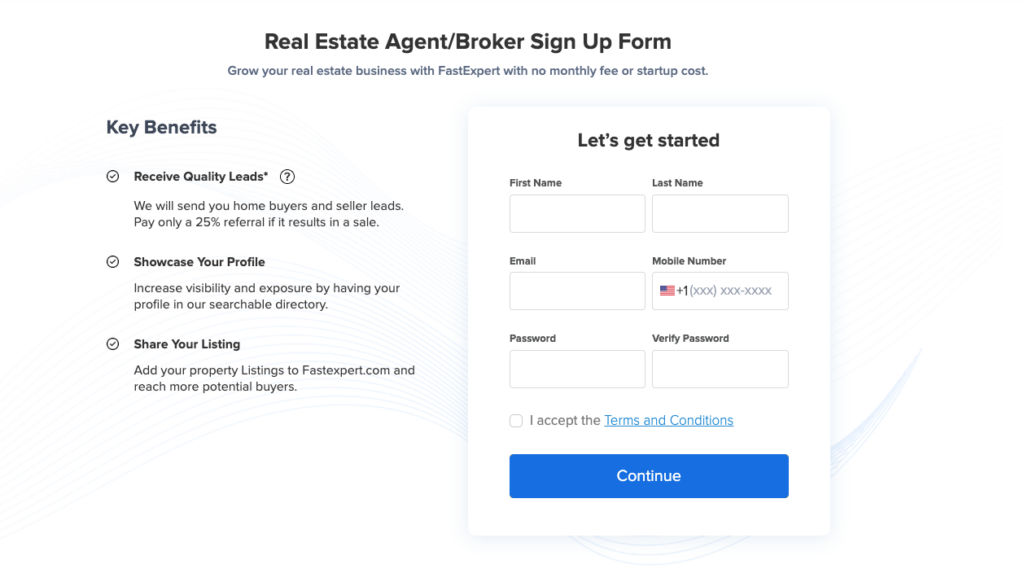 From there, we start building out your personal profile with information on:
What state you work in
What year you were licensed
Total sales amount for the previous year
Types of property you work with
Types of leads
Certifications and Designations
We also gather information about who you work for or with. If you are with a brokerage we want to be sure you are associated with the correct one and that we have the right information for the brokerage. This can help make it easier for clients to find you and may help them desire to hire you if they prefer a specific real estate company.
Build Your Profile
After you have provided the basic information, you have the chance to build out your profile. This is where you really have a chance to shine and stand out from the rest.
Profile Picture
Adding an image of yourself can show a high level of professionalism and give clients a sense of who you are. Give some thought to how you want to present yourself and hire a professional to take some headshots. This is usually the first thing a client sees, so a blurry picture or selfie is a bad idea.
Social Media Links
Adding links to your social media helps clients get to know you better and adds credibility. The internet is widely used for initial information and research before decision making. As clients start their journey to decide what agents they want to contact, allowing them easy access to your social media could help.
If you are active on Facebook or Instagram, for example, they will be able to see your communication style and see if it fits with them. They can also see what you focus on and what is important to you in your daily work. This is different than a bio or statistics that only show who you are on paper. Social media can really give a client a window into who you are as a person and a real estate agent.
Transaction History
Adding your past transaction history is easy. With a few clicks you can upload the data on the sales that you've made in the past. This is important for a few reasons:
Clients want to be sure you work in their area. If they can easily see that you've sold or bought homes in their neighborhood or nearby, they feel confident that you know the nuances of where they live.
It shows how active you are. Clients want to know how active you are and how many sales you or your team do every year. Some want to see as many as possible because it shows you work fast and efficiently. Others prefer agents that only have a few clients at a time so they can give each more attention.
It gives an idea of the price point range you work in. Most clients want to be sure you are used to working within their price point.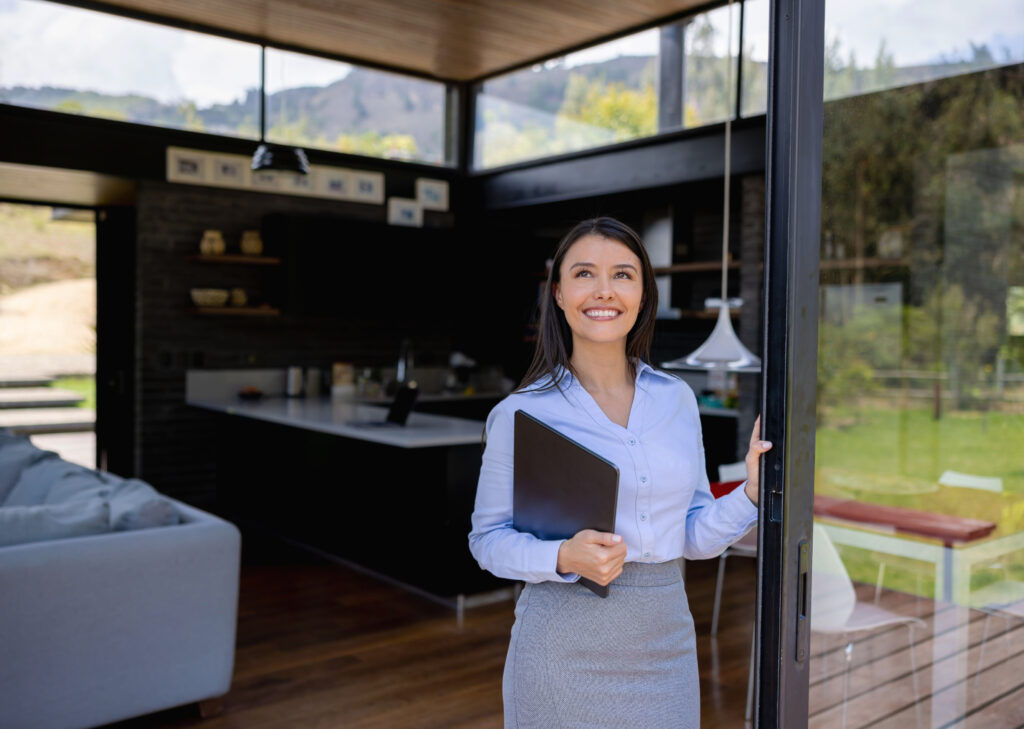 Trusted Professionals
Another part of an agent profile that FastExpert offers is the opportunity to recommend and feature trusted professionals on your page. This is a section of the site that is expanding quickly but is most used for lenders or loan officers.
⭐️. Sign up to join FastExpert today! ⭐️
As an agent with FastExpert you can send invites to your preferred lender and when they join, they are listed as one of our "Trusted Professionals". This allows them the chance to build their business and gives both of you added credibility on the site.
As the offering grows, you'll be able to send invitations to handymen, plumbers, roofers and more. Allowing you a network of contacts that could continue to grow and benefit your business and your clients.
Sign-Up for Auto Accept
When you are finished building your profile you are ready to show in our directory. One thing we recommend to all our agents is to allow your referrals to be automatically accepted. This means that if a client finds you and messages you or if our team assigns you a client that is searching for an agent like you, you will automatically accept and your profile will be shared with the client immediately.
The reason we recommend this is it helps the process move along. When a client decides they need a real estate agent, they rarely want to wait around. We want to be sure we are giving them the best experience possible. This includes agents that accept referrals quickly and get to work on their clients needs.
We Love Our Real Estate Agents
At FastExpert, we know that without the hard work of our partner real estate agents, we have no company. This is why we work every day to ensure you get what you need, as well as the clients.
We truly want to be the connection between home buyers and sellers and the real estate agents they are looking for. If you have suggestions or questions about our service, we are always here to help by phone at (800) 319-0511 or email [email protected].
If you're ready to join and start building your own published profile, get started here! We can't wait to start working with you.