Click here to browse our Real Estate Agent Directory and contact top-rated agents in your area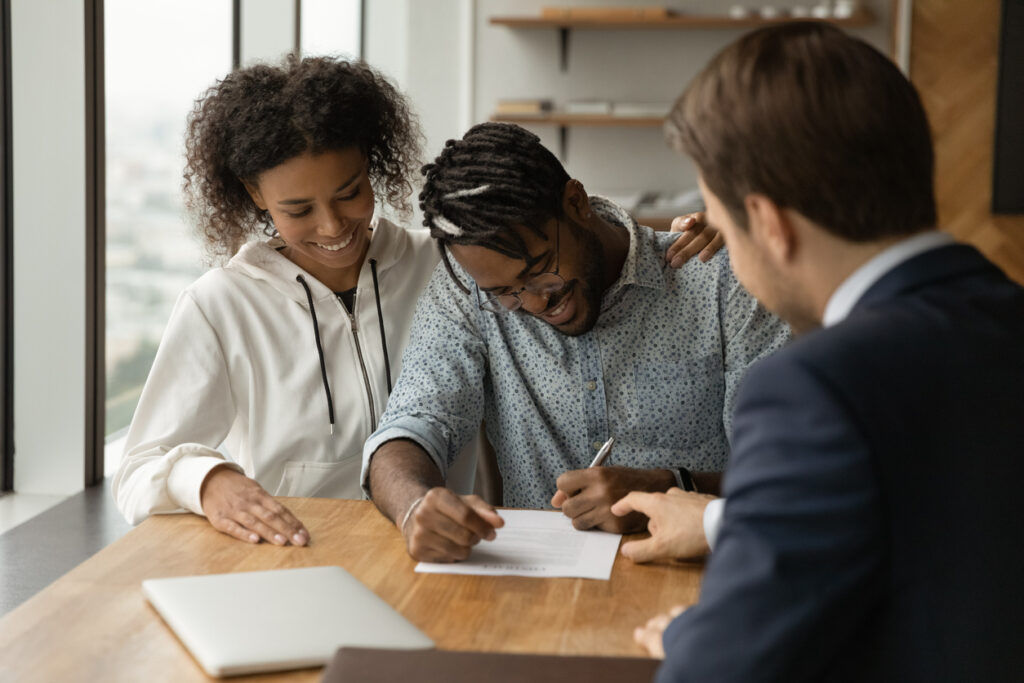 Looking at homes and imagining your future lifestyle is fun, but actually buying a house can be stressful. One survey found that nearly half of all homeowners cried at least once during the home-buying process (including 65% of Gen Z buyers). Most Americans feel the process of buying a house is just as bad as getting fired.
Throughout the endless calls with the mortgage company and potentially weird requests from the seller, there is one shining beacon of light to look forward to: the closing date. This is the day when your homebuying stress is over and you are the legal owner of the house.
Knowledge is power and it helps to be informed about what to expect at your closing appointment. Here's what you need to know in your lead-up to closing on a house and how to make the house closing process go smoothly.
How long does closing on a house take?
On average, it takes between 30 to 45 days to close on a house. However, this window will depend on a variety of factors. As the home buyer, you will work with the seller to reach a reasonable closing date that aligns with their schedule and financing needs. A few factors that contribute to the closing date include:
Financing. Cash buyers can close on a house faster (on average) because they don't need to wait for a bank to approve their loan.
Occupancy. Vacant homes can close faster because the seller doesn't need to move out of the property. A seller might try to push back the closing date if they need to pack and move.
Inspection periods. Even motivated buyers and sellers need to wait a few weeks to schedule the home inspection, title search, and appraisals.
Insurance. The buyer might need a longer window to secure home insurance and for the coverage to kick in.
Subjective factors. Both parties will have their reasons for pushing back or moving up the closing process. These include the holiday season, start dates for school or work, and the buyer's moving timeline.
>>MORE:  Finding a top real estate agent is easy with FastExpert
In theory, a cash buyer can close on a vacant home within a few days. However, most people will want a closing period of a few weeks to prepare for the moving process, transfer the utilities, and complete the necessary inspections before agreeing to take on the home.
When are you ready to close on a house?
Two things need to occur before you are ready to close on a house:
You need to secure financing or have enough cash to buy the property.
All of the contingencies in the offer need to be met by both parties.
Financing plays a significant role in the closing timeline. A cash buyer doesn't need to wait on the lender and complete the underwriting process. They just need to write a check. A buyer who needs to work with a mortgage lender has to work within the bank's timeline.
A 30-day closing window is considered fast for most lenders. This means there were very few problems with the loan and each party worked quickly to approve the mortgage. A slow loan process can extend past 60 days.
Your lender will send you a list of requirements to approve the loan. This includes detailed paperwork related to your finances (bank statements, pay stubs, retirement accounts, etc.) and information related to the house. Many mortgage lenders require buyers to secure a home inspection and appraisal to make sure the property is in good condition and fairly priced. Completing these tasks takes time.
While you are working with the mortgage lender, both parties will work to complete the required contingencies in the home offer. For example, you might add a home sale contingency where the purchase of this house can't happen until you sell your current property. You also might add repair contingencies where the buyer needs to replace the roof or update the wiring on the house before you move in. Your Realtor and the seller's agent will work as mediators to ensure all contingencies are met.
What does "clear to close" mean?
Your ultimate goal as a buyer is to reach "clear to close" status, which means all of your mortgage paperwork is complete and the home contingencies are met. At this point, the title company will gather the appropriate documents and make a closing appointment.
Clear to close means your work as a buyer is done. You are ready to attend the closing appointment and there are no perceptible barriers to your buying the house.
How long does the closing process take?
One of the main benefits of working through all of the loan documents and contingencies before reaching Clear to Close status is that the actual closing appointment doesn't take very long. You can expect the appointment to take between one to two hours to review everything.
The majority of these meetings happen in person, but some title companies started offering virtual closing appointments because of the COVID-19 pandemic. Even as the pandemic wanes, they continue to offer this option for the convenience of buyers.
The closing agent (usually from the bank or title company) wants to make sure you understand each document you are signing – and therefore agreeing to. They will walk you through each contract and what it means for your home. During this time, you can ask questions about the documents to make sure you consent to them. The title company will keep most of the signed documents after completion.
What should you bring on the closing date?
The good news is that you don't have put together all of the necessary closing documents – the majority of your work is done for you. However, there are some items you need to bring to this meeting. Your Realtor should give you a list of what to bring to the closing appointment as soon as you are clear to close. These include:
Photo identification. You may need to bring multiple forms of government-issued photo ID depending on the title company. These include your driver's license, passport, voter identification card, or work ID.
Proof of homeowner's insurance. Most lenders won't approve home loans without insurance. You should send this to your lender ahead of time or bring it with you.
Blank checks. You may need to cover any extra closing costs at this appointment. Bring a few cashier's checks or certified checks with you just in case.
You should also bring any other loan documents you might have or need with you. In this increasingly digital world, most loan documents are saved online. Consider bringing a laptop or tablet with you so you can quickly pull up any information about your loan estimate. The bank representative should also be able to access relevant documents online as needed.
Who attends the closing appointment?
There are multiple people who can be present at the closing appointment, but not all of them need to be there. Some of these individuals might complete their paperwork beforehand or submit their signatures digitally. Others might not be able to physically attend the appointment but can be on-call if any issues arise.
Have a Question?
Browse commonly asked questions and get answers from
licensed real estate agents here.
The Buyer
First, you as the buyer obviously need to attend the closing. If there are multiple people on the title (you and your spouse) both of you should attend this appointment. However, there may be times when one person can attend as the representative for both parties.
The Seller
The seller of the house may or may not attend the closing appointment. They might choose an earlier time that works for them to close on the house and hand over the keys. Once their paperwork is complete, you can move forward with your part of the closing process. If the seller has already completed their paperwork, your appointment might go faster.
The Closing Agent
Most closing appointments occur at the title company. You can expect a representative to walk you through each document and communicate with other parties at the appointment. They will likely secure a conference room for everyone to work through the closing process in comfort.
Your Loan Officer
If you have secured a loan from a local bank or work with a local lender, they might attend the closing appointment. It helps to have them on hand if any issues arise and they can confirm that the loan is valid and approved by the bank.
The Buyer's Agent
Your real estate agent might also attend this meeting. Ask them to attend if you have questions about the documents or feel more comfortable with them there. Their presence isn't required, so clarify if they will be there ahead of time.
A Real Estate Attorney
Some states require any home sale contract to be reviewed by a lawyer before the closing appointment. This attorney might also attend the closing to oversee the signatures and confirm everything is in order.
Start the Buying Process With FastExpert
Buying a house doesn't have to drive you to tears. The right agent can help you through the home search, offer, down payment, loan, and closing process. They can give you the right information to feel confident as you apply for a loan and complete the required contingencies.
>>MORE: What Buyers Need to Know About Rent-Back Agreements
At FastExpert, we pair buyers with qualified Realtors who have a proven track record of successfully helping their clients. You can find top real estate agents in your area who you know and trust. Our service is free to use, so you can focus on finding and making offers on homes in your area.
Learn why FastExpert is the #1 trusted platform to search, compare and hire real estate agents and try our service today.