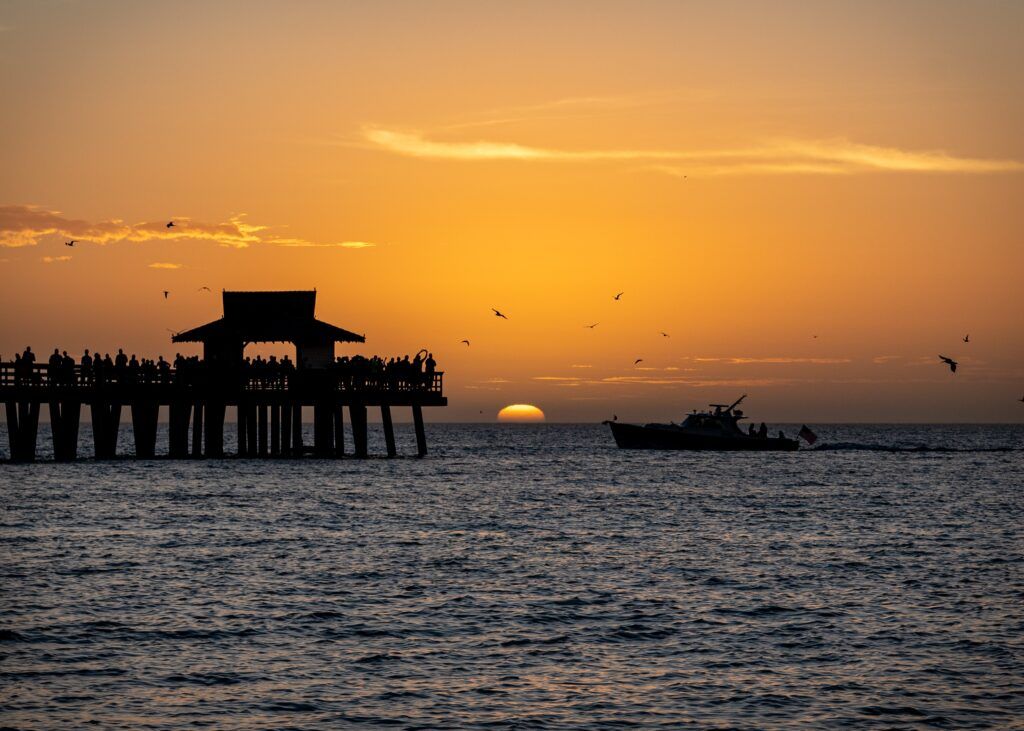 Welcome to Naples, Florida the crown jewel of the Southwest Coast of Florida. Over many decades Naples has evolved from a small fishing village inhabited by early settlers into a Cosmopolitan Destination for the rich and famous. Known for its beautiful beaches, world-class golf courses and beautiful houses, Naples is a top destination for retirees.
Naples currently has a population of just over 19,000. Florida as a whole has approximately 845 people moving into the State every day which has caused a huge boom in business, real estate, and the like despite the last years of COVID.
There are many reasons to live in Naples but I'm going to focus on the top three. People come to Florida as far as California, the Northeast, and the Midwest all benefiting from warm weather, no state taxes, and a wonderful lifestyle.
3 Reasons to Make Naples, FL Home
No State Income Taxes
In Florida, you have no state income taxes. Property taxes range depending on the County you reside in from 1-2% of the sales price of the property. Also, Florida has a homestead exemption, this does two things. One is a $50,000 assessed valueAssessed ValueTypically the value placed on property for the purpose of taxation. reduction. But most importantly is the cap on how much an assessorAssessorTypically the value placed on property for the purpose of taxation. can increase your tax to only 3% in any given year despite what values are doing.
Beautiful Weather and Setting
Naples is known for its white sugar sand beaches, dozens of golf courses, hundreds of restaurants and high quality recreational options including all kinds of boating. Airport access is available at RSW, FLL, MIA and TPA. RSW is the closest and the others are within 1.5-2 hours or so drive time. This gives the traveler many options to consider for flight routes and costs.
The one thing the area has is the ability for people to live here within a large range of net worth. Folks from middle income to extremely high income can enjoy what Naples has to offer. As they say Naples is available to pretty much everyone!
Fun Fact: Naples is home to TWO Ritz Carltons. Very rare I am told for Cities; much less Cities of this size.
Wonderful Lifestyle
Sitting on the shore of the Gulf of Mexico, Naples offers an abundance of places to stroll and see the amazing sights. While catering to many wealthy retirees with its beautiful golf courses and top-rated restaurants it is starting to find a younger, less affluent crowd. The area is also home to a growing craft brewery scene as well as clubs and waterside establishments.
Though the area skews older there is Florida Gulf Coast University in a neighboring county that helps with the younger crowd.
As with many places in Florida, outdoor living is one of the many perks of the nice weather. Not having to shovel snow or own a separate winter wardrobe is also appealing to many.
The Naples Real Estate Market
The real estate market at this juncture is much like many other vibrant parts of the country. Low inventory, high demand, and prices rising monthly.
However, of late the current economic conditions nationally with high inflation, high gas prices, stock market, and crypto market decline, the inventory is increasing and prices are flattening. My prediction going forward is a continued increase in inventory and price declines.
However, keeping in mind that even with continued price declines and inventory increases, the comparison to pre-COVID still highly favors a seller in terms of market time, price and demand.
Naples Real Estate Agents
In Collier and Lee County there are roughly 15,000 agents chasing the business. Very competitive indeed but many licensed agents are passive providers in the fact they keep a license for only friends and family. Very common in this area. Having been in the business for 25 years now, I have experienced the ups and downs of the SWFL Market and over time, real estate has been an excellent investment in this area.
Going forward if you are a seller it would be to your benefit to sell sooner versus later and most importantly to price the property reasonably. Look to get a triple as they say in baseball, not a grand slam – as has taken place over the last several months. Buyers now are no longer participating in grand slams. Builders are stopping the bid programs and getting realistic in their expectations.
If you are a buyer, stay patient and be ready to pull the trigger as at some point in late 22 and into 23 I believe there will be some decent deals and below trailing sales prices saving buyers tons of money.
One thing is for sure in a rising or falling market and has held true over my 25 years of business. Naples, Florida has and always will be one of the nicest areas of Florida on many fronts. Come and see for yourself and you will not be disappointed.
If you're in the Naples area, check out Chris Spina and message him directly!