Finally Sold Review: A Quick Way to Sell Your Home for Cash? Worth It?
Selling quickly for cash from a We Buy Houses for Cash company is a pretty tempting proposition when you need to unload your home fast. And while a lot of these companies are legitimate businesses that can help you out in a bind, you should still proceed with caution before signing on the dotted line.
In this article, we'll take a look at one such company: Finally Sold. FastExpert takes you through everything you need to know about Finally Sold so that you can make an informed decision about whether or not using their services is right for you.
What Is Finally Sold?
Finally Sold is a national home buying company that purports to offer a quick and easy solution for selling your home. The company operates as a Limited Liability Company and was founded in 2014 and is headquartered in Phoenix, AZ. The main principals of the company are Jake Mercer, Douglas Schwartz, and Robert Van Hoose. The parent company is Right Now Capital, LLC, and according to Maricopa County Recorder records, real estate transactions are executed under this business name.
As one of the smaller We Buy Houses for Cash companies, it is not as well-known as some of the other options out there. Nevertheless, the company has a solid reputation in the industry and has helped many people sell their homes quickly for cash.
How Does It Work?
The process for selling your home to Finally Sold is pretty straightforward. The first step is to contact the company and provide some basic information about your property. You have the option to call them or fill out a short preliminary form on their website.
The online request form asks for the following information:
Your name
Your phone number
Your email address
The reason why you are selling
The property's address
The approximate worth of the home
How much you still owe on the home
The lowest offer you will consider accepting
Once you've done that, a representative from the company will contact you to schedule a walkthrough of your home. Within a matter of minutes, the representative will make the decision to present a cash offer on the spot.
According to their website, they will offer 80% of your home's market value. They break down the costs of using a traditional agent to show that cutting out the middleman and selling directly to Finally Sold will result in a negligible difference in sales price.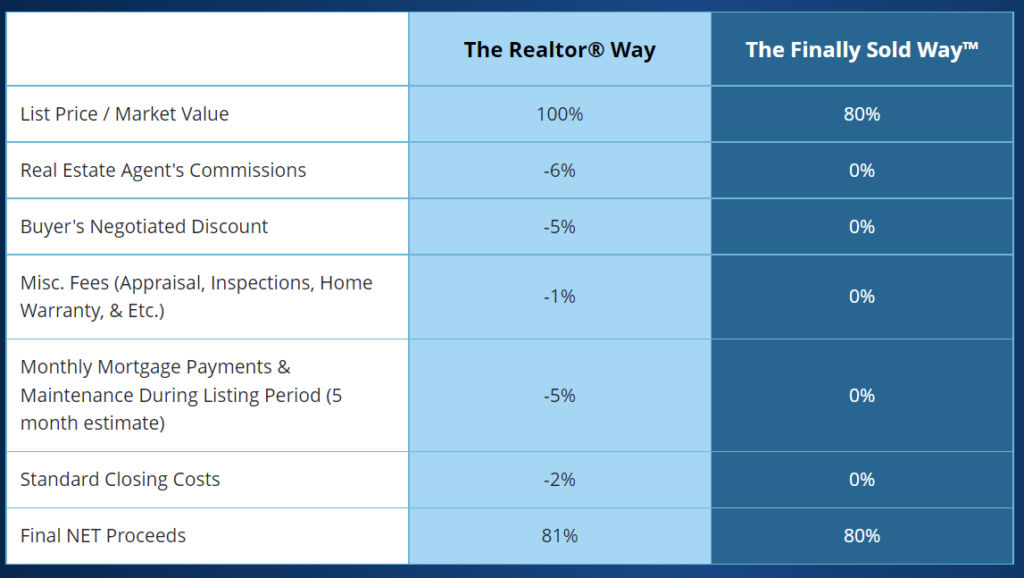 If an offer is made, you're under no obligation to accept it. However, if you do accept the offer, the company will hand you the paperwork to sign right then and there.
From there, they will open escrow and close the transaction within 10 days. However, if the closing date is too soon, you have the option to request an extension.
What Are the Pros?
There are several advantages to working with Finally Sold when selling your home. First, the company is a legitimate business with a good reputation in the industry. Second, they're able to make you a cash offer on the spot and close within 10 days. This is much faster than going through the traditional home selling process, which can often take months.
Another advantage is that they're willing to work with you if the 10-day closing period is too soon. This flexibility can be helpful if you need a little more time to move out or make other arrangements.
Additionally, they accept most homes as-is, meaning you don't have to make any repairs or renovations before selling. This can save you a lot of money and hassle, as well as give you the peace of mind of not having to worry about your home's condition when it comes time to sell.
Finally, if you choose to sell your home to Finally Sold, there are no middlemen involved. The transaction is made directly between the seller and the company. But, it is advisable that you get a second opinion from another real estate expert before signing anything.
What Are the Cons?
Of course, there are also some disadvantages to working with this company. One of the biggest is that you won't have as much control over the sale of your home. Because an offer is made on the spot, you won't be able to shop around or negotiate with other buyers. In light of this, you should consider other offers before contacting them.
Another downside is that you'll likely get a lower offer from them than you would if you listed your home on the open market. This is because We Buy Houses for Cash companies typically buy at a discount in order to make a profit when they resell.
Finally, it's important to note that, while Finally Sold is a legitimate company, they're still in the business of making money. This means that their primary motivation is to get you to sell your home as quickly as possible so that they can turn around and sell it for a higher price.
For this reason, it's always a good idea to get a second opinion before selling your home to Finally Sold or any other We Buy Houses for Cash company.
---
Finally Sold Quick Stats
Pros
No seller fees, commissions, or closing costs
Buys homes as-is with no repairs required
Open to buying homes in any state
Cons
Not as well-known as some competitors
You'll be working with an investor
Investors tend to low-ball offers
---
Should You Sell Your Home to Finally Sold?
If you're considering selling your home to Finally Sold, the best thing you can do is weigh the pros and cons carefully. Be sure to consider all of your options and get a second opinion before making a final decision.
Finally Sold may be a good option if you:
Need to sell your home very quickly
Can afford to sell for less than market value
The property is distressed
Finally, if you decide to sell your home to Finally Sold, remember to be flexible and understand that you may not get the same offer you would on the open market. With that said, Finally Sold is a legitimate company with a good reputation in the industry, and they may be able to help you sell your home quickly for cash.
Finally Sold Reviews
Better Business Bureau – 3.67 stars out of 5 (3 reviews)
Yelp – 3.5 stars out of 5 (3 reviews)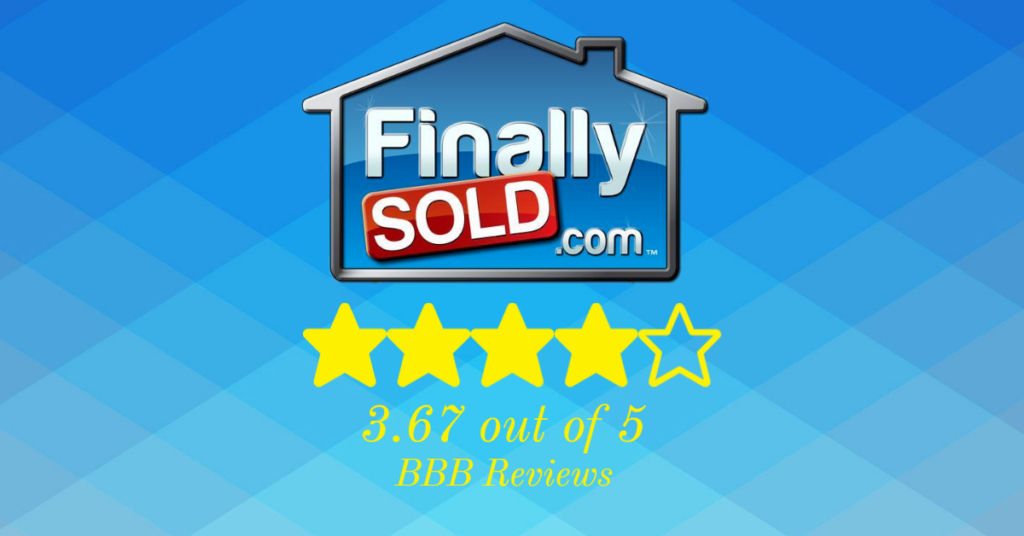 Similar Companies Like Finally Sold
Flyhomes
HomeVestors
I Buy Houses
Knock
Offerpad
Opendoor
Orchard
MarketPro Homebuyers
RedfinNow
Sundae
We Buy Ugly Houses
Speak to an Expert Before You Decide!
While it may be tempting to sell your home to a We Buy Houses for Cash company, it's important to get all the facts first. Be sure to speak with a real estate expert before making any final decisions.
Get answers to your questions fast by finding an experienced real estate agent near you who can help. Remember, national home buying companies may seem like a great fit at first, but they don't know your area like a local real estate agent. A local agent will be familiar with your market and can help you get the best possible deal.
Use our FastExpert matching service to get connected with a real estate agent in your area who has experience working with home buying companies. With our service, you can be sure you're getting the best possible advice before selling your home.