Kitchen and Bathroom Renovations That Are Cheap and Easy
Click here to browse our Real Estate Agent Directory and contact top-rated agents in your area!
Kitchen and bathroom renovations are by far the most commonly renovated rooms in homes nationwide. 
And that makes complete sense for multiple reasons. First, upgrading kitchens and bathrooms is one of the fastest ways to increase the value of your home and appeal to future buyers if you ever plan to sell it.
Beyond that, since these are the most commonly used rooms in most homes, renovating them will produce the most considerable change in your level of enjoyment of the existing space right now.
However, significant kitchen remodels, and bathroom renovations can cost a lot. A full bathroom renovation can easily cost you several thousands of dollars, for example, and a kitchen remodel can be well over $10,000. And that's without getting into any costly changes, such as custom cabinetry.
So is upgrading your kitchen and bathrooms impossible without breaking the bank?
Absolutely not!
You just have to be smart about the renovations right materials you choose. If you're willing to roll up your sleeves and tackle some DIY remodeling projects, your home can look brand new in no time.
Let's look at some great ideas for some cheap renovations you can do to upgrade your kitchen and bathrooms!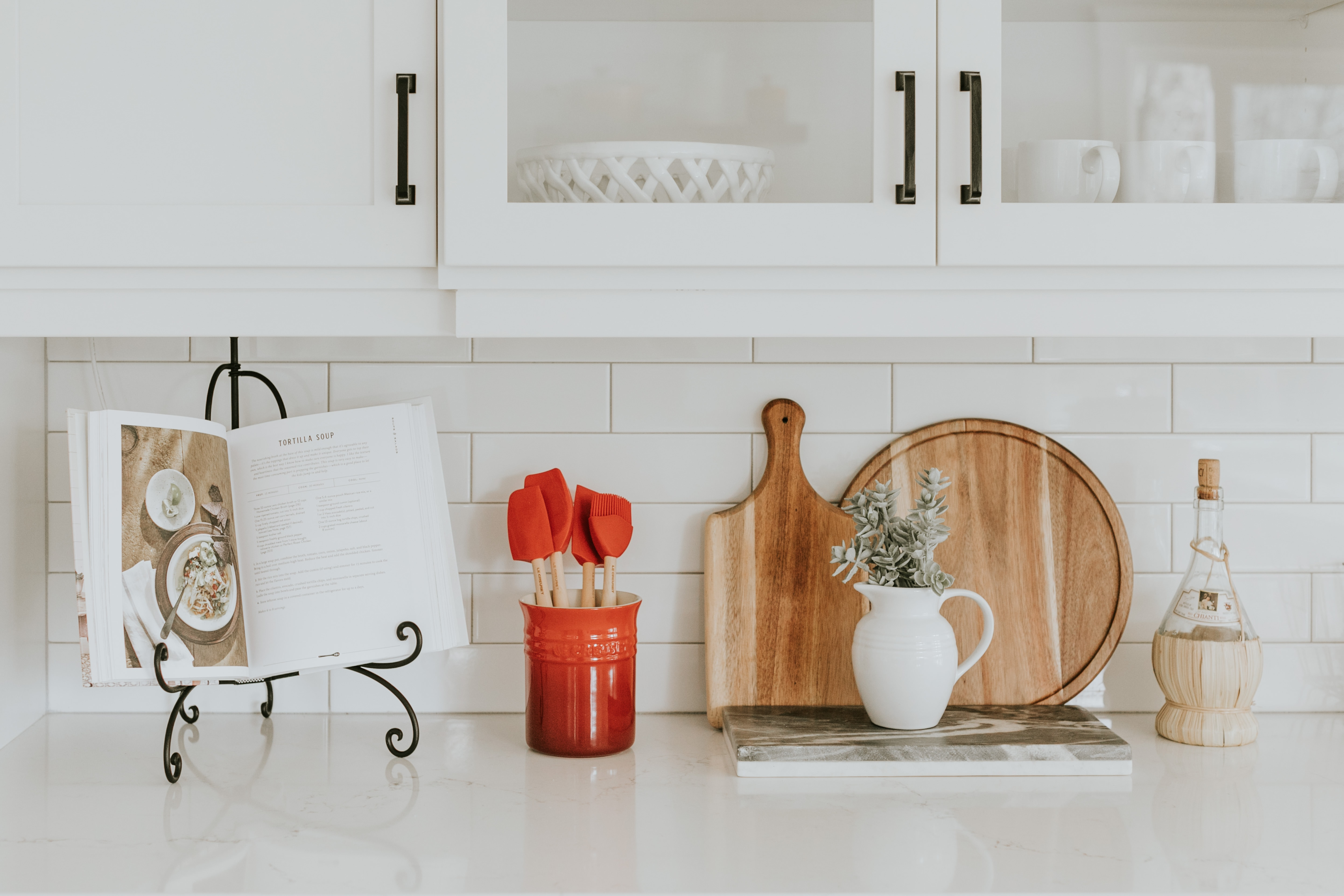 Install a Tile Backsplash in the Kitchen
You might think a tile backsplash is out of reach for your budget, but it may be cheaper than you think! White subway tile is very affordable, and adding these simple tiles to your walls can completely transform your kitchen.
This project requires an intermediate skill level, but with the proper tools and advice from a few YouTube videos, most homeowners should be able to knock it out with no problem.
The keys are to only apply adhesive in a large enough area that you can comfortably cover before it dries and use plenty of spacers to ensure you achieve consistent spacing.
Once you install the tiles on the wall, the last step is applying grout in all the seams. It is important to choose a grout color that will complement the existing colors in your kitchen from the walls, countertops, and cabinets. If you're unsure which color to use, Mapei's Warm Gray is an excellent neutral option that goes with a wide range of other colors.
Add LVT Flooring in Bathrooms
Updating bathroom flooring can be one of the most transformative projects you can do in that room. Normally, a flooring upgrade wouldn't be considered a cheap renovation. However, since most bathrooms are relatively small, you can usually switch out the flooring and keep the upgrade affordable.
One of the easiest types of flooring to use in a bathroom remodel is Luxury Vinyl Tile (LVT). These tiles click together and can typically lay on top of your existing flooring. Have sheet vinyl or outdated tile in your bathroom right now? No problem! As long as the tiles are level with each other, you should have no problem laying LVT on top of them.
The main benefits of LVT flooring are that it's completely waterproof and relatively easy to install without many tools required.
On top of that, there are dozens of options to choose from, with many styles giving a modern, stone-like look. Many people won't be able to tell the difference between your LVT floors and ceramic tile. But LVT installs much easier and in a fraction of the time!
Choosing a high-quality brand is one key to success when installing luxury vinyl tile flooring in your master bathroom too. Smartcore from Lowe's and Lifeproof from Home Depot are both reputable brands that should give you an excellent finish that lasts for years. Even though they're a little more expensive than other brands, you shouldn't feel it too much since you'll likely only need a few boxes to cover your entire bathroom.
New Bathroom Mirror
Most bathrooms have a standard flat mirror above the vanity. And unfortunately, that doesn't do much for style. But the good news is that a mirror upgrade is one of the cheapest bathroom renovations you can make and will drastically change the look of your bathroom.
Look for mirror deals at stores that sell discounted building materials and home decor. If you're replacing a very large mirror, don't feel like you have to find one the exact same size. If your vanity has two sinks, splitting the one mirror into two smaller ones centered on each sink will give it a more modern look. Just be aware that you might have to paint the wall section hidden behind the old mirror.
Update Your Existing Mirror
Instead of completely removing your old mirror, a cheaper option is to update it in place. Some simply painted trim around the perimeter will make it look like you bought it from the store.
One of the best types of trim to use in this application is trim molding. Simply cut the pieces at 45-degree angles, paint them, and then glue them to your mirror. See the picture above of how the finished product can look!
New Bathroom Hardware
Not only can adding new hardware to your kitchen or bathroom remodel improve its look, but it can also add a ton of functionality. If you don't currently have towel rings, towel rods, or robe hooks, you won't know how you ever lived without them after you've had them for a couple of weeks!
Adding bathroom hardware is potentially the cheapest renovation on this list. On top of that, it is likely the most DIY-friendly. You should only need a drill, hammer, and level.
Here are the bathroom essentials you should add:
Towel Rods
Hand Towel Rings
Robe Hooks
Toilet Paper Holder
You likely already have some of these pieces in your bathroom. However, if you want to improve the aesthetics of your bathroom, you should choose a consistent finish for all of the hardware. This also includes cabinet knobs, doorknobs, and faucets. The most common finishes in modern bathrooms are brushed nickel and oil-rubbed bronze.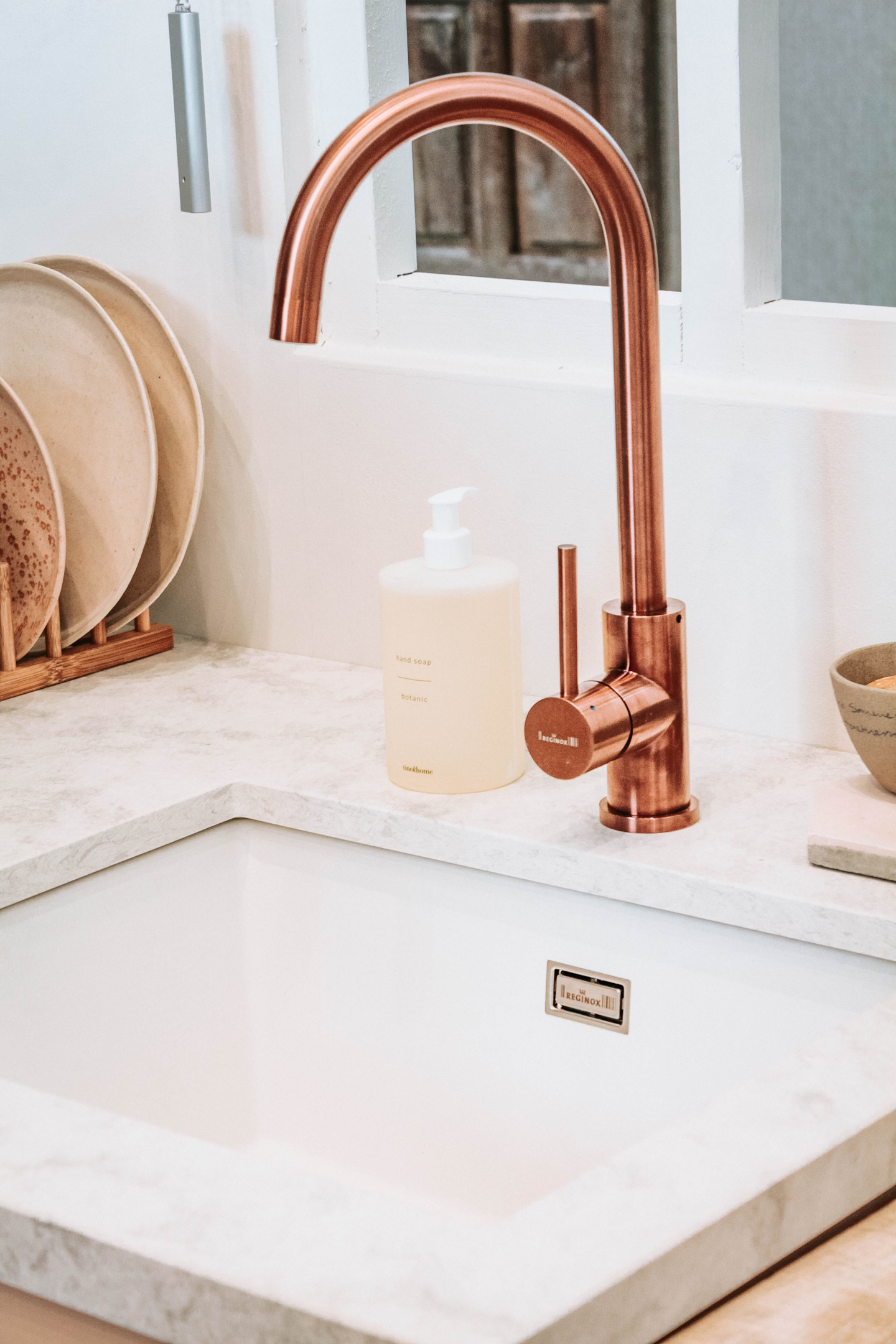 Install New Faucets
Of all the components in your kitchen and bathrooms, the faucets are likely the ones you use the most. And if you haven't renovated your home in a while, your faucets are likely outdated and lackluster.
Fortunately, changing your faucets is a relatively inexpensive project – especially if you can manage to do it yourself! This isn't the easiest upgrade on our list, but it is still doable if you have experience with home renovations. The good news is that you shouldn't need anything more than basic hand tools such as screwdrivers and wrenches.
If you want to get really fancy, you could even install a touchless faucet in your kitchen. Even though it seems like overkill, that feature comes in handy when you're cooking and don't want to touch anything before washing your hands. Plus, it's an extra wow factor to show off to your friends!
New Cabinet Hardware
One of the most shocking things about new construction homes is how many builders neglect to add knobs and handles to cabinets. Talk about cheap!
If your kitchen and bathroom cabinets don't have hardware, or if the current hardware is outdated, installing new knobs and handles is super simple. This upgrade alone can take a plain bathroom or a kitchen and give it an instant facelift.
The process and costs for adding new cabinet hardware will be slightly different depending on whether you currently have hardware.
If your cabinets have hardware, you will need to measure the center-to-center distance on the mounting holes for any handles to ensure you buy handles that will fit without having to drill new holes. If you only have knobs with a single hole, you won't have to worry about that.
Your options are much more open if your cabinets have no hardware right now. You can go with knobs or handles and choose any size of handles you like. However, you will need to drill new mounting holes. It is helpful to use a template to ensure you drill the holes evenly.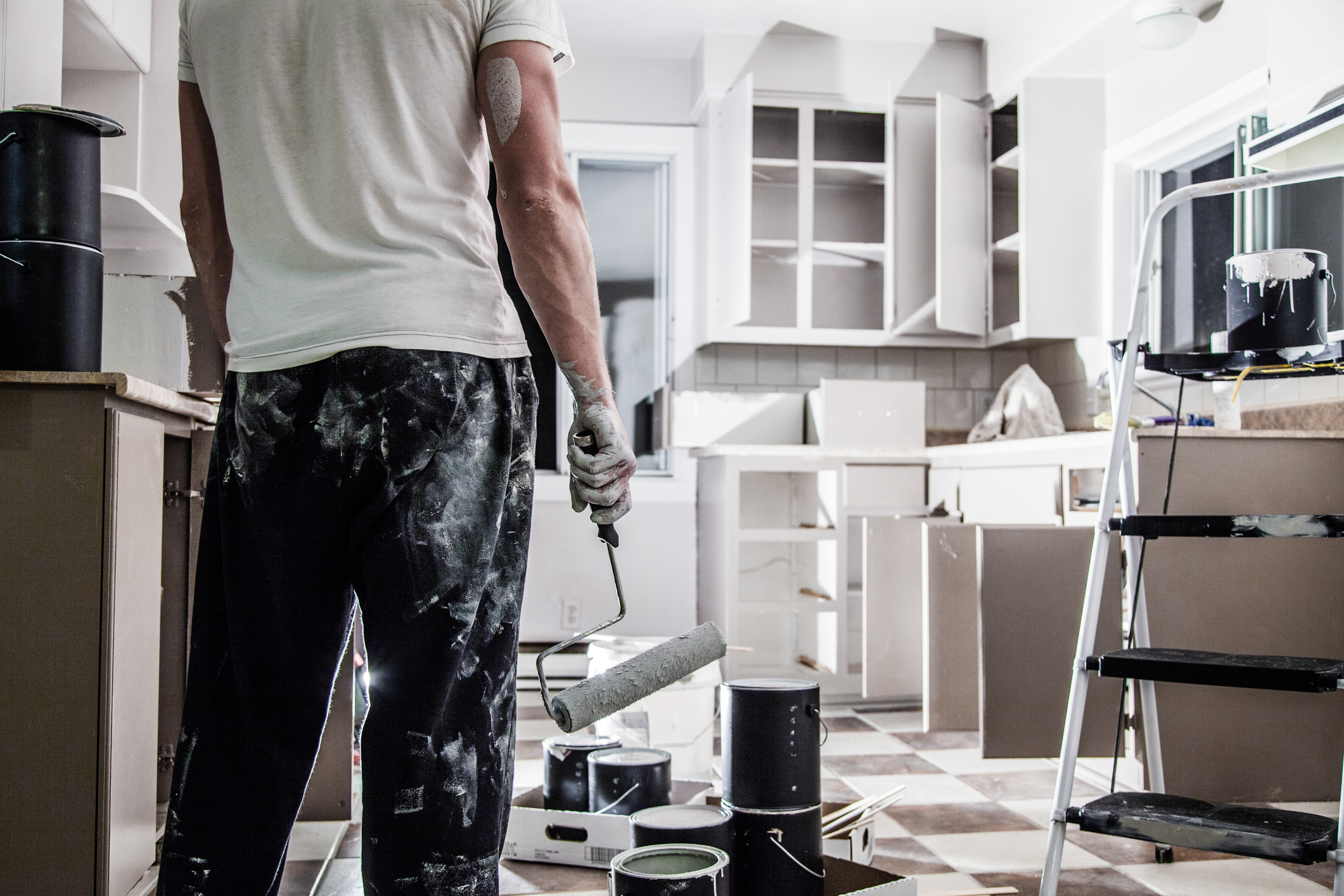 Paint Cabinets
Of all the renovations we've listed here, painting cabinets is definitely one of the most common. And that's understandable. Everyone wants a modern-looking kitchen these days, which is difficult to accomplish with old-looking cabinets. Instead of completely replacing your cabinets, which can cost several thousands of dollars, you can likely paint them and achieve the same look!
Here are some quick tips for painting your bathroom or kitchen cabinets.
The first step is to clean them thoroughly. If they have a layer of grime, the new paint will not adhere well, and you will be disappointed in the finished product.
After you clean the cabinets, the next step is to sand the cabinets. This will prepare the surface even more to accept the new paint. If you have access to a powered finish sander, that will make the task much more manageable.
After you sand and wipe off the dust with a damp rag, it's time to decide if you will take the doors off for painting. This is recommended to get the best finish and avoid getting paint on the hinges.
Once the doors are removed, the next step is to apply primer. Zinsser's B-I-N primer is one of the best primers to use for cabinets. It is shellac-based, so it bonds really well and provides excellent durability.
Now it is time to apply the paint. It is essential to choose high-quality paint that will endure the test of time. A great option is Benjamin Moore's Advance paint. Many home remodelers choose this paint because of its strong adhesion.
It is important to choose a paint color that will complement the space and surrounding features, such as wall color, countertops, appliances and flooring. You must also decide which paint sheen you want. The two most common choices are satin and semi-gloss.
Install New Light Fixtures
Like many other features we've discussed, outdated light fixtures are a dead giveaway that your home hasn't been updated in a while. But the good news is that you can easily change them for a quick makeover in your kitchen and bathroom renovation.
Since we are talking about cheap upgrades here, we will focus on replacing light fixtures that are already there instead of adding them in new locations. For kitchens and bathrooms, the most common light fixtures to choose from are flat-panel LED lights, dome lights, and vanity lights that go above a mirror.
Of all the upgrades we've discussed, this one is the most dangerous. If you have any level of concern or discomfort working with electricity, you should hire an electrician to install your lights. This will still be a relatively inexpensive renovation even after paying for labor.
If you are competent working with electricity and decide to install the lights yourself, it is important to closely follow the manufacturer's instructions. Turn off the breaker controlling the circuit you're working on for the entire project and connect the wires as specified in the instructions.
Upgrading Your Kitchen & Bathrooms Can Be Affordable!
As you can see, you can update your kitchen and bathrooms in several ways without breaking the bank. The key is to salvage what you can and choose colors and finishes that complement what is already there.
This list alone will keep you busy for a while. But if you choose some of these projects and implement them in other spaces in your home, it will look completely new in no time. We hope that we have inspired you to renovate your kitchen and bathrooms and that you are thrilled with the results!
Seek Advice From a Realtor
If you're looking to move and aren't sure what kitchen and bathroom renovations will be worthwhile, meet with a FastExpert real estate agent to get their expert opinion. They can help you with which home remodeling will add value for a quick home sale.
FastExpert agents are trusted, reliable, and will work with you for your best outcome!