Click here to browse our Real Estate Agent Directory and contact top-rated agents in your area!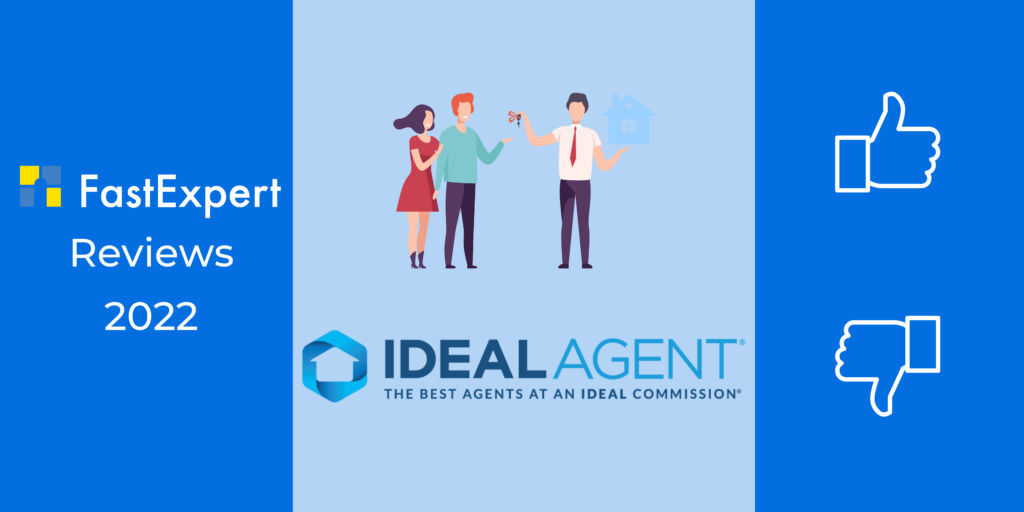 There are a lot of online real estate services to help users buy and sell homes. In recent years, more have come out claiming to have the best real estate agents and the ability to match users with them. Before giving a service like this your personal information, it is essential to know if they are a legitimate company and how they plan to use your information.
Ideal Agent is one of these agent matching services. We have dug deep to get the information on this company as well as Ideal Agent reviews, so you have what you need to make an informed decision on whether to use this platform or not.
Selling a home can be a stressful and expensive process. It's no surprise that home buyers and sellers are looking to save money. One of the ways to save is on realtor commissions.
About Our Ideal Agent Review
If you've done any searches on discount local real estate agents, you may have come across Ideal Agent. The service claims to provide "the best agents at an ideal commission" and aims to reduce the high commissions that real estate agents are accustomed to.
This review discusses Ideal Agent in-depth, its pros and cons, and some alternative options for those that want to save on realtor commissions and work with top-performing real estate agents in their area.
We reviewed the Ideal Agent website, went through the process of connecting to the agent network, read the reviews, and checked licensing info to bring you a complete picture and review of this service.
What is Ideal Agent?
Ideal Agent is an agent matching service. They are essentially a platform that connects sellers with real estate agents in their area. Ideal Agent's main selling point is that you can work with a top-performing real estate agent and pay less in realtor commissions when selling your home. However, Ideal Agent isn't the only player in the game. Other competitors offer a similar service with added benefits.
Ideal Agent is unlike some of the other big players in the real estate industry that offer home-buying services, lending, and more. They only offer matching services and home listings. On their website, you'll mainly find their agent match tool, property listings, and Ideal Agent reviews.
Company Profile
Ideal Agent started in 2016 with the idea that 6 percent was too much to pay a real estate agent to sell your house. Ideal Agent is a hot name in the real estate technology space. The company raised $20 million in venture capital funding and plans to raise more money for its Series B round shortly.
Founder and CEO Steve Johnston started the company when he saw that the standard 6 percent commission isn't fair since a realtor's job is much different now than in the 1970s when Steve was growing up, and the standard was set.
Today, Ideal Agent has over 50 employees and is growing in the real estate world as the home-buying process shifts to digital.
How Does Ideal Agent Work?
Ideal Agent is web-based and they do not appear to have an app listed. Their site has a phone number listed but most inquiries appear to be done online.
Ideal Agent makes it easy to get started using their platform. How Ideal Agent works is by matching users to a local agent through their agent match technology.
Once you visit their website you'll start with their agent matching services. This begins with the user providing a property address. Then you'll answer a few questions about your property, its value, and your timeline for selling.
Users then are required to provide their contact information before Ideal Agent will connect you with a one of their qualified real estate agents.
Many similar services will send multiple agents, Ideal Agent claims to save you money and time with a one agent match to home sellers.
This means that you do not get a list of agents, just one that they feel is the best agent match.
Ideal Agent reviews are mixed on whether this is a positive or negative as the agent matching service doesn't always choose the right agent the first time. They do claim to work with the best real estate agents.
Is Ideal Agent Legit?
Ideal Agent is a legitimate website with employees and real services. Their Better Business Bureau profile shows 255 five star reviews and has them listed in Tampa, FL.
Ideal Agent Features
Ideal Agent has a good track record and plenty of positive reviews online. They are known for providing value to their customers and offering the following benefits you'll find if you decide to use Ideal Agent when selling your home.
Home Buying Services
Ideal Agent focuses their agent matching service on sellers only. The reason for this is that they have likely identified that sellers make them more money.
In our Ideal Agent reviews we found that when searching for a location to buy, instead of seeing agents, the site displays home listings. This isn't necessarily a bad experience, unless you are expecting an agent matching service.
What makes the experience less than ideal is that the site isn't exactly ready for traffic. Though the listings look good, users can only see ten at a time. Also, in our reviews and testing, we were unable to find many active and available listings. All of the listings we clicked on showed homes that were "in contract", "pending" or "closed".
Home Selling Services
If you decide to use Ideal Agent for their agent matching service when selling your home you'll be required to answer some questions and provide contact information before you can see any agents.
Once you provide the information, you'll have to wait to receive an email before seeing any agents in your area.
Working with Ideal Agent and their agent matching services can have its benefits. Read about some of these below.
Reduced Realtor Commissions
The main selling point of Ideal Agent is the fact that they can save you thousands on local agents commissions when selling your home. Working with realtors in the traditional home selling process can be costly and time-consuming. Ideal Agent ensures you're working with an expert, whether you're a real estate investor doing multiple deals or selling your home for the first time.
But how does Ideal Agent get their agents to accept lower commission rates and still pay them a referral fee? This isn't exactly clear. Under their "agent only" section of the site agents are able to apply if they fit the requirements. These requirements include:
Top 1% local or national agent
Closed 50-100+ transactions in the last year
5 years experience
25+ reviews, 4.9+ stars
There is no mention of if agents are required to only charge a certain percentage of commission. They also don't state what the referral fee is for joining the agent network with Ideal Agent.
Highly Qualified Agent Network
Ideal Agent has a thorough screening process for its agents. They claim to only work with agents in the top 1 percent of their market. Their website also says that they reject 90 percent of all agents that apply to Ideal Agent. This means being an agent on the platform is exclusive, and you can trust you're working with a top performer.
There is no way to verify these agents on the site. There are no profiles to see past sales or reviews before submitting a request.
Free Service and No Obligation
Ideal Agent is free for home buyers and sellers to use. There is no obligation to work with a realtor once connected through Ideal Agent. Like plenty of other similar services, Ideal Agent only makes money when you use a realtor through their platform to sell your home. Ideal Agent takes a referral fee from the
Agents Across the Country
Ideal Agent claims to work with over 2,000 real estate agents across the country. They will likely have an agent near your local area, though maybe not some small locations.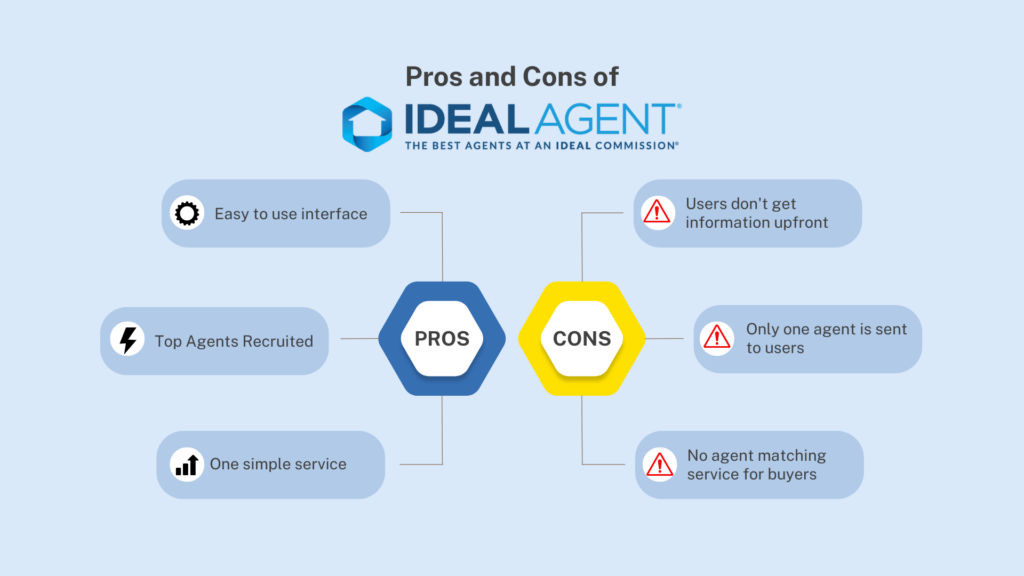 Ideal Agent Reviews
While Ideal Agent has plenty of benefits, there are some downsides. You should consider these before using them over some of the alternatives on the market.
Ideal Agent is primarily focused on sellers
Ideal Agent makes it clear that they are focused on providing their services to sellers. While they have an option for buyers to use the platform, they are almost exclusively geared toward sellers. Ideal Agent alternatives like FastExpert allow sellers and buyers to browse top agents and contact them for their real estate needs.
Only 2,000 Agents in their Agent Network
While 2,000 agents may sound like a lot, some of Ideal Agent's competitors have over 70,000 active agents on the platform. Ideal Agent may connect you with an agent without much experience in your market if they can't find an agent close enough to you.
Limited Savings for Sellers
Ideal Agent claims to be the best at saving seller's money on standard realtor commissions. However, the savings are minimal for those selling a home under $250,000. The real savings don't kick in unless you sell an expensive home. Even then, there may be some better options on the market.
Matching with Only One Agent
Ideal Agent only matches sellers with a single real estate agent they determine is the best match. This goes against traditional wisdom that says you should interview several different agents to find the one that's the best fit. Competitors like FastExpert have a ranking system to identify top agents. They also allow you to interview as many agents as you like and message them on the site.
Inconsistent Match Results
Users of the Ideal Agent platform claim that their match results are inconsistent. They say they're only sometimes matched with a real estate agent who is an expert in their area. In Ideal Agent reviews, one user commented that an agent they matched with works in a major city but had little expertise in their suburban town.
Why Use FastExpert?
Ideal Agent isn't the only name in the game. In fact, competitors like FastExpert offer a similar service with added benefits. FastExpert is the only site that allows users to search and view real estate agent profiles without requiring personal information– saving you more money than you would with other similar platforms.
Visit our website and check out our resources for more information on selling your home for top dollar in today's market.