4 Tips to Improve a Builder-Grade Home
Click here to browse our Real Estate Agent Directory and contact top-rated agents in your area!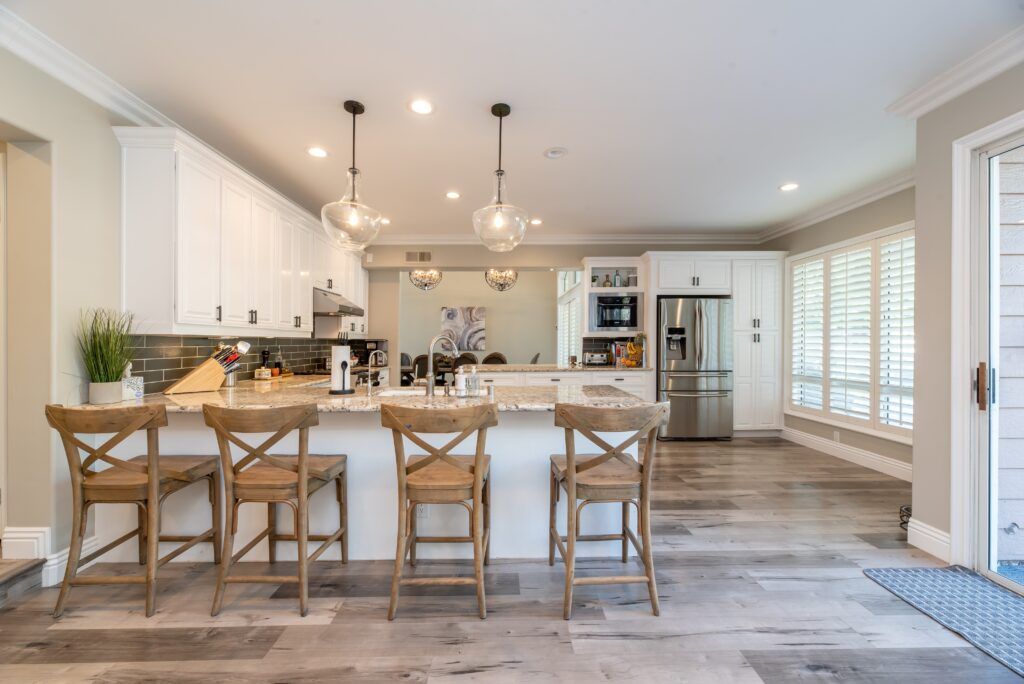 Builder-grade homes, also known as spec homes, are houses that are built by developers with basic or "standard" finishes and fixtures to appeal to the mass market. While they provide a solid foundation, they often lack personalization and aesthetic appeal. However, with a few clever tricks, you can transform your builder-grade home into a unique and stylish sanctuary. In this article, we'll explore four effective techniques to improve your builder-grade home and make it truly your own.
Understanding builder-grade Homes
Before diving into the upgrades, it's essential to understand what defines a builder-grade home. Builder-grade homes are typically mass-produced with cost efficiency in mind. They feature standard finishes, basic fixtures, and neutral color palettes that cater to a wide range of tastes. While these homes are functional, they lack the individuality and customization often desired by homeowners.
You can easily put your personal touch on a builder-grade home with a little creativity and time. Let's take a look at 4 ways to improve your builder-grade home.
1. Enhance Curb Appeal
The first impression of your home is crucial. Enhancing the curb appeal not only adds value but also sets the tone for the entire property.
Start by focusing on landscaping. Well-manicured lawns, colorful flower beds, and strategically placed shrubs can instantly elevate the appearance of your home. Additionally, consider exterior updates such as repainting the front door, replacing old house numbers, or adding stylish outdoor lighting fixtures.
2: Transform the Interior
To create a personalized and inviting space, revamp the interior of your builder-grade home. One of the most effective ways to achieve this is through paint and wallpaper. Choose colors that reflect your style and create the desired ambiance. Wallpaper can be used as an accent or to add texture and patterns to specific areas.
Upgrading fixtures and hardware is another transformative step. Replace basic light fixtures with stylish pendant lights or chandeliers. Upgrade door handles, drawer pulls, and cabinet knobs with modern and unique options that align with your taste. These small changes can make a significant impact on the overall aesthetic.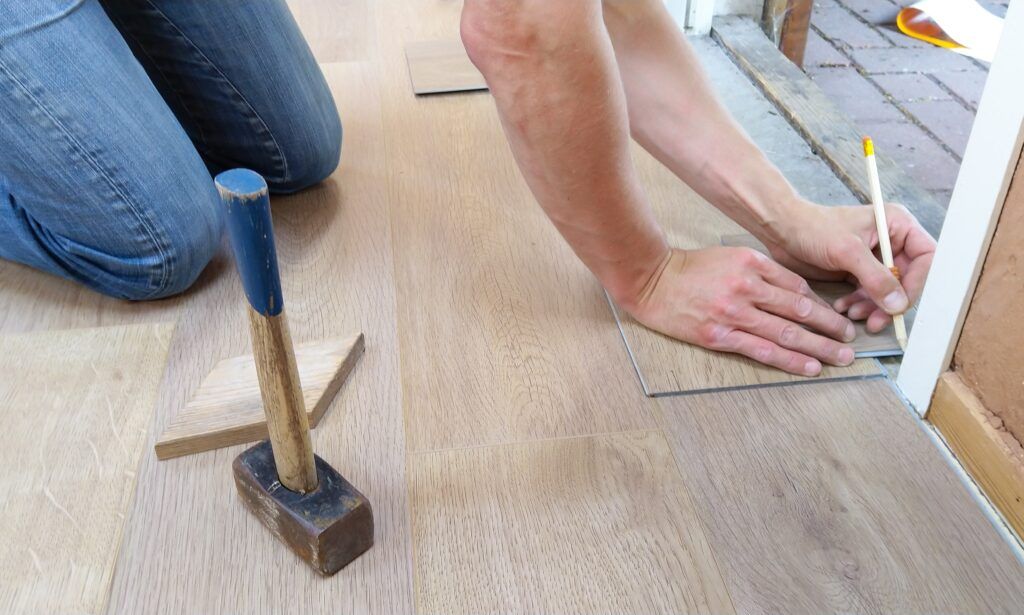 3: Upgrade Flooring
Replacing or upgrading flooring can instantly elevate the look and feel of your builder-grade home. Consider replacing old, worn-out carpeting with new, plush carpet or opting for hardwood or laminate flooring. Hardwood flooring adds a touch of elegance, while laminate provides durability and affordability. Both options are available in various styles and colors to suit your preferences.
In addition, the laminate or vinyl floors of today are not those of 30 years ago. With technological improvements, these floors can look very close to hardwood flooring while providing incredible durability and water resistance.
In addition to the flooring options mentioned, consider exploring eco-friendly alternatives such as bamboo or cork flooring. Bamboo flooring offers durability and a unique natural aesthetic, while cork flooring provides a soft and comfortable feel underfoot. These sustainable choices not only add warmth and character to your builder-grade home but also contribute to a greener and more environmentally conscious living space.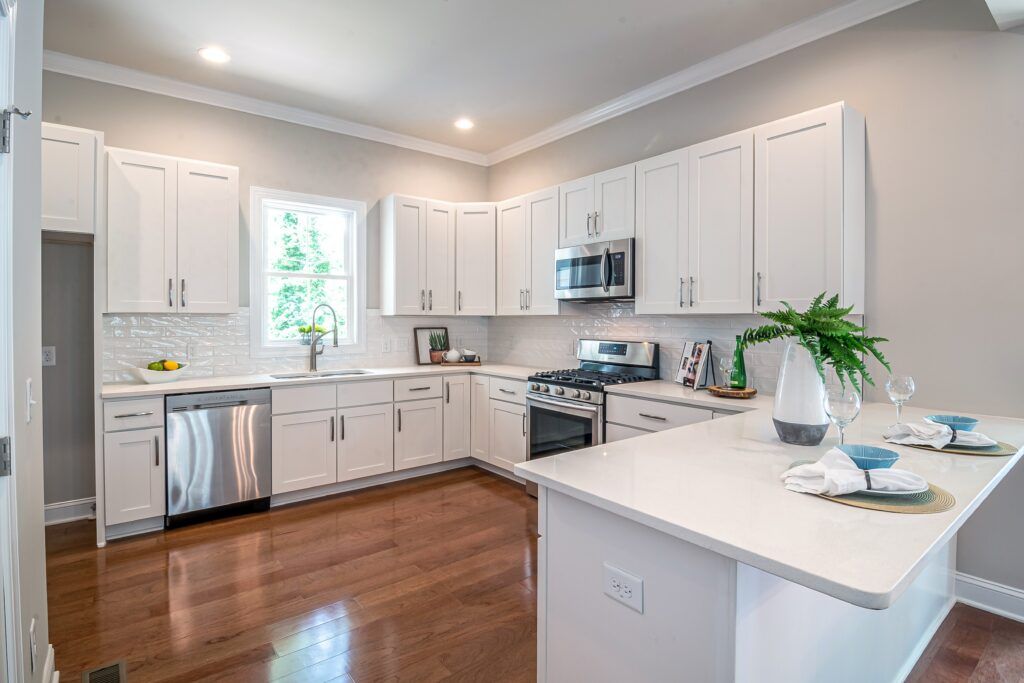 4: Improve Functionality and Efficiency
Beyond aesthetics, enhancing the functionality and efficiency of your home is essential. Focus on key areas such as the kitchen and bathrooms.
In the kitchen, consider replacing outdated appliances with energy-efficient ones. Upgrading countertops, backsplashes, and cabinets can also modernize the space. For more budget-friendly options, consider replacing the hardware with unique pulls or knobs, upgrading the kitchen faucet, or adding a feature wall.
In the bathrooms, installing stylish light fixtures, updating shower heads, and adding additional storage solutions can greatly enhance the overall appeal.
In terms of energy efficiency, consider adding insulation, upgrading windows, and investing in smart home technology. These upgrades not only reduce utility bills but also contribute to a greener and more sustainable living environment.
Adding Personality and Style
Apart from the four main tips mentioned above that will improve your builder-grade home, there are additional ways to infuse personality and style into your home. Remember, the key is to allow your personality to shine through your home. Look for ways to add color, texture, and uniqueness. Rather than looking at a builder-grade home as basic, think of it as a blank canvas that you get to design!
Architectural Details
Consider adding architectural details such as crown molding, wainscoting, or decorative trim to elevate the visual appeal of the rooms. Incorporate statement pieces of furniture or unique artwork that reflect your personal taste and add a focal point to each space.
Lighting
Lighting plays a crucial role in creating the right ambiance. Explore different lighting options, such as dimmers or accent lighting, to set the mood in different areas of your home. Incorporate mirrors strategically to enhance natural light and create an illusion of space. Additionally, consider installing light fixtures in new areas.
Storage
Customization extends to storage solutions as well. Install customized shelving units or built-in storage to maximize functionality and keep your space organized. These personalized touches can make a significant difference in making your builder-grade home feel like a custom-designed space.
Final Thoughts
Upgrading a builder-grade home doesn't have to be a daunting task. By employing these four tips, you can transform your generic house into a personalized and stylish home that meets your unique preferences and needs. Enhance the curb appeal, revamp the interior, upgrade the flooring, and focus on functionality and efficiency. Embrace the opportunity to create a space that truly reflects your personality and lifestyle.