12+ Tips To Make Your Tiny Apartment Feel Spacious
Click here to browse our Real Estate Agent Directory and contact top-rated agents in your area!
Learn from the best! Brett Ari Fischer, NYC real estate agent, and FastExpert partner, has seen it all. From luxury penthouses to the smallest of apartments, he understands how to maximize the potential of a space. Check out his tips on how to make your tiny apartment feel spacious.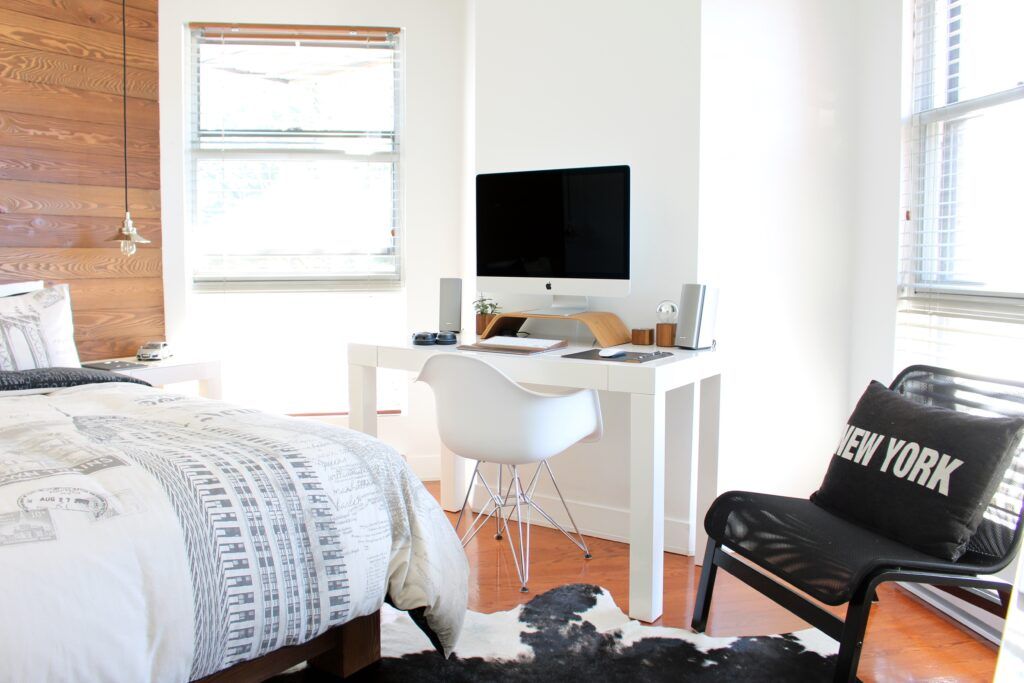 Compromise (to a healthy extent) is necessary for a happy and content life. If you can't buy your dream car, buy something practical and try to fall in love with it. If you can't afford a large apartment, compromise on a small place. Even if it's not ideal, you can still make the best of it. If you have landed in a relatively tiny apartment, there are several steps you can take to efficiently utilize the space and make it feel spacious, airy, and cozy instead of cluttered and cramped.
1. Paint
Light colors are well-suited for small apartments. They reflect a lot of light, making smaller rooms feel more spacious.
You should also consider sticking to a single color or theme to blend open spaces and rooms together, making them look like part of a single large space rather than multiple small spaces with distinct colors. Vertical stripes may make a room seem taller than it is, and horizontal stripes may offer a similar effect regarding the width of the room.
2. Ceiling
You should consider getting the ceiling painted or wallpapered so that it draws eyes upward. As the "fifth" wall of a room, a painted and wallpapered ceiling that attracts eyes to it makes the room seem taller.
Light fixtures like ceiling pendants/hanging lights that are not too bulky or a statement light fixture designed to draw attraction to itself may serve the same purpose.
3. Natural Light
The more natural light you can infuse in your tiny apartment, the better. You can't do much about the direction of the windows or whether you have a skylight, but you can incorporate natural light by using the right type of curtains.
Choose a light fabric that matches the color of the walls. This will help diffuse light in your space. Floor-length drapes can help your room look taller compared to smaller curtains that only cover the window.
4. Mirrors
Mirrors can help your small apartment look big. Tall, wall-mounted mirrors in the right locations and paired with a light source can reflect part of the apartment.
You can also consider turning an entire wall into a mirror. However, use discernment with this choice. You don't want your small apartment to look like a Barre Studio.
5. Efficiently Dividing Up Space
Even if you have a tiny apartment, you need to divide it to set up dedicated spaces like a living room, bedroom, and home office/workspace.
Using rugs to designate spaces allows you to divide floor area without giving up any of it. Consider slatted room dividers with curtains instead of flex walls. With lesser width, they take less floor space and do not block natural light.
Other creative room dividers like beaded curtains or a metal partition (with glass for light) may help you achieve a similar effect. A more renovation-oriented tip is to tear down the kitchen wall and install a kitchen island. It serves as a designated dining space, a more sitting area if you have company, and can be used for storage.
6. Furniture
The simplest furniture rule for a small apartment is "more is less." Look for multifunctional furniture pieces that combine seating or sleeping with storage. Floating the furniture and pushing it away from the walls, enough to make walking around them feasible, can also make your apartment feel more spacious.
Glass tables may look better than wooden tables since there are no visual barriers. Bulky furniture can make the space look cramped, so look for comfortable and space-saving smart furniture pieces. Tables and sofas with exposed legs appear to occupy less space because you can see the floor under them.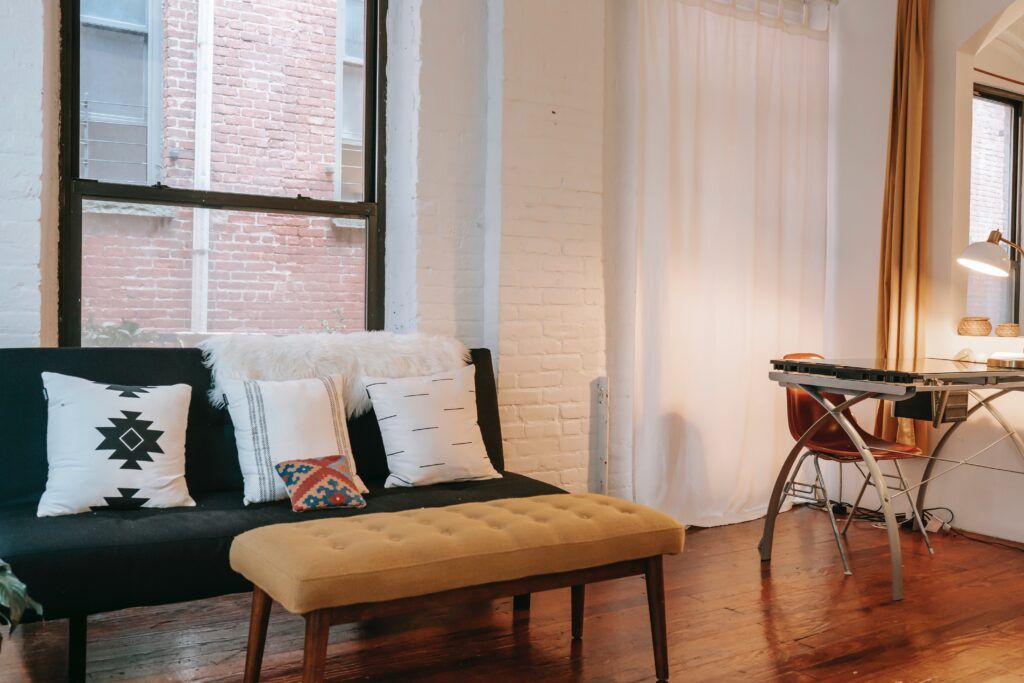 7. Seating
Make sure your seating choices reflect your lifestyle. If you regularly entertain guests, look for efficient seating options like poufs, bench booths (if you have a nook), coffee tables with stools underneath, folding chairs, and stackable stools. Also, consider benches that can slide under the kitchen table when not in use or side tables that can be used as additional seating.
To make your tiny apartment feel spacious, look for ways to make everything multipurpose.
There are a variety of options for creative seating, ensuring that you'll be able to find something that perfectly complements your decor/ambiance.
8. Keeping Surfaces Decluttered
Coffee tables, side tables, and even the shelves can make a place look cramped if they are busy-looking. So make sure that only necessary items are out and a few tasteful decorations are on the surfaces around the apartment or house.
Look for ways to store items creatively. If the sofa isn't being used as a pull-out bed, look for a couch with storage under the cushions. Rather than an entryway table, have an entry cabinet. Or take advantage of basket storage to hide your items.
Although kitchen surfaces can be an exception, as storage space might be an issue with smaller kitchens, look for ways to house your kitchen items neatly.
9. Using Vertical Space
The more stuff you can offload from the surface of your tiny apartment onto the walls, the better. It may include pieces of furniture like chairs, tables, and even beds that can be folded onto the walls.
You can also install shelves for storage. Hooks, vertical coat racks, hanging organizers, and stacked shelves might allow you to neatly store your possessions without taking up limited floor space.
If you get adequate sunlight, vertical gardening can be a way to invite nature and its inherent enormity inside your tiny apartment.
10. Storage
Oftentimes even larger apartments feel smaller due to an inadequate storage system. A tiny apartment with disorganized storage may look worse.
One tip is to make full use of the vertical space. Stretch kitchen cabinets to other areas of the apartment, opt for floor-to-ceiling shelves and cabinets, and choose furniture that offers storage options.
You can also choose things like hanging shoe organizers, use organizer containers of various shapes and sizes to take advantage of any spare space, and use baskets as a quick storage fix. Choose baskets that can be easily tucked away.
11. Minimalist Decor
Instead of several small decoration pieces, opt for large paintings and art pieces. One large piece will draw the eyes without making your walls seem crowded and accentuating the lack of space.
To make a tiny apartment feel spacious, arrange your furniture for clean sight lines. In addition, create zones through furniture arrangement and the use of rugs.
12. Lighting
Smart lights, track lighting, and elegant (but small) lighting fixtures can be good additions to your tiny apartment. Symmetry with lamps can make your space look bigger, and wall sconces can light up a small room without taking on any floor or surface space.
Bathrooms & Kitchens
Bathrooms and kitchens in tiny apartments require their own adjustments for optimal space utilization. Oftentimes you are even more limited in these areas due to the pre-established structure, appliances, and fixtures.
Therefore, creative thinking and storage solutions are a must.
Bathroom
If your bathroom has separations for the shower area, taking them down and installing a shower base can increase available space. If tile replacement is an option, choose smaller tile sizes, but be careful that the space doesn't get too busy with a pattern.
Using baskets for towels/toilet paper, wall-mounted vanity, a medicine cabinet/mirror, a small sink at the corner of the bathroom, and a ladder for towels are among many things that can help your small bathroom feel more spacious.
Kitchen
Storage is one of the main problems in a small kitchen. Taller instead of deeper cabinets can help you take advantage of the vertical space. Even if you have smaller cabinets, using their tops as storage is also a viable option.
For your appliances, two smaller refrigerator units might be more practical than one larger unit. Additionally, putting microwaves and other appliances on sturdy shelves can free up your countertop.
Individual hooks and vertical storage solutions like a pegboard let you use vertical space more efficiently. Instead of a permanent table and chairs, opt for a wall-mounted, drop-down table and chairs or folding table and chairs.
Make the Space Work For You
Other tips like replacing a TV with a projector and opting for floor seating can also help. It's also important to understand that not all "tiny apartment space optimization" tips are relevant for all small apartment owners.
Different people have different lifestyle needs and resources, so if a solution worked for someone else, it doesn't mean it is the perfect fit for you. So take stock of your needs and wants first, find out how much floor area you have to work with, and then figure out how to manage your space optimally.