Click here to browse our Real Estate Agent Directory and contact top-rated agents in your area!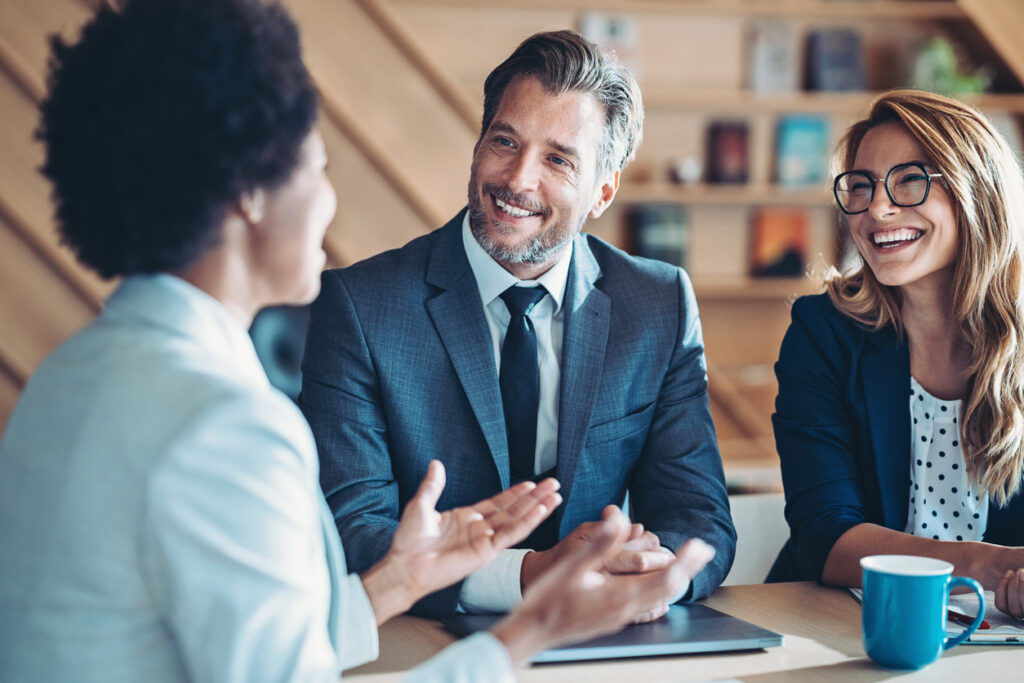 Buying a house is a complex process and it's easy to get overwhelmed if you aren't a numbers-minded person. Your Realtor, lender, and various other parties will use financial and accounting terms throughout the process and expect you to know what they are talking about. If you don't know what everything means, you might end up paying more for your house than you realize.
Fortunately, you have the power to start off on the right foot with your mortgage loan. Know what questions to ask a loan officer so you feel informed making application decisions. The more confident you feel during this process, the more you can advocate for yourself and your future home.
1. What type of mortgage loan do you recommend for me?
Some lenders are just trying to secure a commission and make a sale. They don't care about the actual best interests of their clients. This is a good question to learn whether the lender is actually there to help you. An experienced lender will provide multiple options and review the pros and cons of each one. They will stress that it is up to you to decide.
Avoid working with a lender that only presents one option or tries to push for a single loan type. Also, talk to multiple lenders to see how they compare different loans for your situation.
2. What are the credit qualifications?
This question can start the discussion about the requirements to secure the loan. It's a good question even if you have a healthy credit score. It will give you an idea of the types of buyers the lender works with and how willing they are to help you.
Look for a lender that requires a moderate credit score. A loan officer who says they can secure a loan for a buyer with almost any credit score might be willing to approve risky loans and might charge higher interest rates as a result.
3. What down payment and monthly payments should I expect?
This is another example of questions to ask a mortgage lender that is actually open-ended. Your lender should look at your finances and provide recommendations for down payments based on their experience. From there, it's up to you to decide what your down payment should be. A few numbers your mortgage lender might provide include:
The minimum down payment needed to secure a loan. (This could be as low as four percent for FHA loans – aka first-time homebuyer loans.)
The down payment needed to avoid private mortgage insurance (PMI). This is a 20 percent down payment.
The maximum down payment you would likely be able to afford. A responsible lender will want you to keep enough money in your account to cover an emergency. They won't let you put every dollar you have into a down payment.
Look at your finances before you start sending questions to ask a loan officer. You should have an idea of your expected down payment. This question can be used to evaluate the thought process and ethics of your mortgage lender.
4. What does the pre-approval process look like?
Lenders often claim you can pre-qualify for a loan in a few minutes. This is true. Pre-qualification is based on the information you submit and doesn't need to be verified. However, if you are ready to make an offer on a home, you need pre-approval. This is when the mortgage lender does their research to see if you actually qualify for a loan based on the house you want to buy.
Start talking to your mortgage lender about the preapproval process before you look at homes. This way you will be ready to secure mortgage loan preapproval the moment you need it.
5. What are the expected fees and payment amount?
In the same way that you should interview multiple Realtors before you choose the right one, it's important to talk to different lenders. You need to get an idea of the types of interest rates available to you and the fees that various banks and credit unions charge.
One key metric beyond the interest rate to look at is the annual percentage rate (APR) of your mortgage loan. This is the total cost you will pay – including all fees and expenses charged by the lender. A bank might offer a lower interest rate to lure you in but actually charge you more with a high annual percentage rate.
Have a clear idea of the costs of a loan before you agree to it. You can also have a financial advisor or trusted relative review the terms before you agree to them.
6. What do you charge for mortgage points?
Mortgage points can be used to lower your overall interest rate. On average, a mortgage point costs one percent of the home's value and is worth a 0.25 percent drop in interest. If you are buying a $400,000 house, a mortgage point should cost $4,000. Most lenders will allow borrowers to buy multiple mortgage points and even fractions of points.
Ask your mortgage broker about their mortgage points policy and whether it might be good for you. The purchase of points is often used by people who already have a 20 percent down payment and want a lower monthly payment on the home.
7. Do you charge for a mortgage rate lock?
Interest rates are constantly fluctuating. Ask your mortgage lender if they charge a fee to lock in a favorable interest rate through the buying process. This ensures your proposed rate won't increase between the pre-approval process and the closing date.
Some mortgage lenders charge for this. The lock means they potentially could make less money on the loan than if the rates kept fluctuating. Learn whether your mortgage broker charges a fee for this service and what it is – it might be worth the cost if you receive a favorable rate. Even a slightly smaller monthly payment can add up in savings over time.
8. What are the estimated closing costs?
As you evaluate your home purchase budget, consider your estimated down payment, monthly payments, moving expenses, and other fees like your closing costs. Like the name sounds, closing costs are paid at the closing appointment and cover various fees related to the purchase process. Some of these closing costs are out of your control (like the home appraisal fee) but others are issued by your lender.
Your lender should be transparent about estimating your closing costs. You should also find this information in the Loan Estimate and Closing Disclosure. Having a clear picture of your finances is essential when making loan application decisions.
9. Do you need an escrow account?
Your lender covers more than just your home cost. They can also cover the taxes and home insurance that you owe each year. This means you continue one monthly payment to one entity without worrying about these secondary costs. If you decide to cover your taxes and home insurance through your lender, they might require an escrow account. This is a set of funds that can be used in the event of extra costs and fees that aren't already covered by your loan.
As your lender if you need to have an escrow account and what your escrow waiver options are. While an escrow account isn't necessarily a bad thing (and can provide security for you and your bank) you never want to be forced into financial decisions. Your lender should be able to clearly explain the escrow process and how it affects your monthly payments.
10. Is there a penalty for paying off mortgage loans early?
Your financial situation can change over time. You might come into some money that allows you to pay off your loan faster than expected. Ask your lender if there are any penalties for making mortgage payments in advance or lump sum payments.
This practice of charging fees for paying ahead is become less common and is unpopular with borrowers. You shouldn't have a hard time finding a loan that you can pay off on your schedule – even if you're only making a few extra monthly payments each year with your tax return and holiday bonus.
Bonus: How Frequently Will I Be Updated on the Loan Progress?
Many of the questions to ask a loan officer in this list focused on the technical aspects of your loan. However, your lender is providing a service to you. You deserve to be updated frequently on the loan process, including where the loan is in the underwriting process.
An experienced lender will walk you through how they update their borrowers. Even if they don't have any news, frequent communication can give you confidence in the lender and provide opportunities for you to ask questions about the application.
Talk to Your Realtor About Finding a Quality Mortgage Lender
A quality Realtor will have worked with several different mortgage lenders in your area. They should have an idea of who they trust and who you should avoid. While you can research lenders on your own and talk to potential creditors, your Realtor is also here to support you through this process.
To find a Realtor, turn to professionals at FastExpert. We pair buyers with top real estate agents who have a proven track record of helping people secure their future homes. Our site is free to use and you are under no obligation to choose the Realtors we recommend. Learn more about FastExpert and how we can help you find the perfect Realtor for your needs.